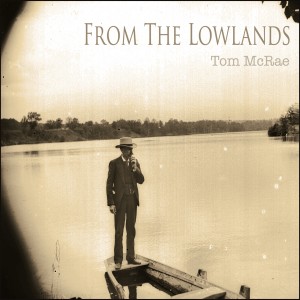 Tom McRae's fifth album, The Alphabet Of Hurricanes, received a decidedly lukewarm critical response upon its release in 2010, making the decision to release a follow-up billed as a second part of the project, and containing a song of that name, a surprising one. He has earned the right by now to do things on his own terms, though, and the approach proves inspired. From The Lowlands is a collection to stand alongside the Chelmsford veteran's finest work.
From the opening "mmm-mmms" of 'Lately All I Know' to the closing title track, McRae's perenially weary-sounding voice is a perfect fit for a set mostly downbeat but full of warmth, even on the regular occasions when we find McRae drifting on seas and rivers.
The stand-out among these is a superb reinterpretation of the Beach Boys' 'Sloop John B'. A wonderful song and an enjoyably understated offering from the Californians, their ever-jangly harmonies nonetheless jar slightly with what is at its heart a tale of unrelenting misery. McRae… well, he just does that kind of thing well, while it is also a perfect fit with the following 'Belly Of A Whale'. 'F*** You, Prometheus' is a peculiar title for a number containing no swearing but the song, recorded outdoors with birdsong clearly audible, is also another of the album's stand-outs.
Best of all, though, is the bitter 'All That's Gone'. In the past when McRae has given vent to his anger in song, it has manifested itself in more uptempo, raucous numbers such as 'Karaoke Soul' and, to some extent, 'End Of The World News'. Here, it smoulders on a searingly raw acoustic break-up song, and is all the more affecting for it. Along with 'The Alphabet Of Hurricanes', an American road-trip and paean to letting go which occupies similar ground lyrically and geographically – if not musically – with the great Tom Russell, the two songs bring a high-quality end to an excellent album, one that firmly re-establishes McRae among this country's finest singer-songwriters.
Words: Tom White