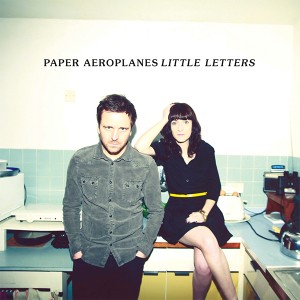 There's a great moment in the tenth episode of 30 Rock in which someone asks Alec Baldwin's character if he likes Phil Collins. Baldwin's response is a droll and perfectly timed "I have two ears and a heart, don't I?"
Though the debate over Phil Collins is better waged another time, somewhere far, far away from FFS, there's a definite resonance in the sentiment when listening to Paper Aeroplane's third album Little Letters.
From the album's electric opener 'When The Windows Shook' – an invigorating song that feels like it belongs on a mid-noughties Cardigans album, anyone paying even half their attention to Sarah Howells and Richard Llewellyn's music should be entirely sold. It's a terrific opener that is bold and radio-friendly and is just about perfect for getting people of a certain disposition whinging about what actually gets played on Radio 2 instead of this.
Elsewhere, Howells' vocals ease their way across the album, versatile enough to play pop chanteuse one moment and folk singer the next. 'Red Rover', in particular, is the sort of soothing folk song that BBC soundtrackers will be clambering over each other to get the rights for.
There are two particular stand-out songs on the album, though. 'At The Altar' is a gorgeous piece of songwriting, with Howell's singing cautiously of a new marriage: "Cause we left our beautiful lives at the alter". It's a slow-building song that will someday be ruined when Simon Cowell hears it and has a sixteen year-old waif sing it meaninglessly at the X-Factor final.
There could be a similar fate for the title track, 'Little Letters'. An absolutely haunting song for the first minute and a half, it develops into an incredible pop song with slight undertones of Goldfrapp at their very best. It's handily representative of the entire album – a pop album cursed by its own excellence. Little Letters has all those qualities that, fifteen to twenty years ago, made albums massive hits. The vocals are outstanding, and affecting, and so damned sincere. The songwriting is so educated and yet so natural. It's an intensely satisfying record, where the music, lyrics and vocals come together perfectly. But that isn't what makes a pop album anymore. People don't buy a pop album to enjoy the hear what happens when everything goes right. They buy a pop album to revel in the happy accident that comes about when you the equivalent of Nicaragua's GDP at clumsy producers and big name singers. No one listens to Will.I.Am's new album to hear the lyrics ('Yeah we getting dumb/Get-getting dumb/Yeah), but rather they want something to drink blue alcopops to before going out on a Friday.
And so this is a pop album, but not as we know it. It's a good old-fashioned pop album. It's the sort of album you can listen to in a car, or on a bus, or at home, or absolutely anywhere because – get this – it's absolutely excellent wherever. If you have two ears and a heart, you'll love this album. And frankly, you'd probably still love it even without one of those ears.
Words: Stephen Thomas