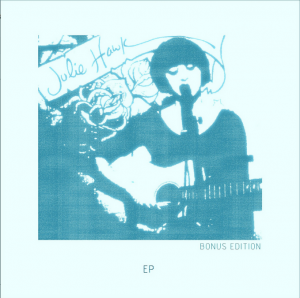 There are certain clichés that go hand in hand in the contemporary folk revival. Press shots taken on fallen trees. Bunting. Oh, Christ, so much bloody bunting. And, of course, birds. Hell, FFS understands the bird element so much we've enlisted our own resident playlist master from the winged world. Julie Hawk indulges in a little of that latter cliché herself, picking 'Hawk' as a moniker that requires less second-guessing than real surname, Hough. This, though, is the end of cliché on Hawk's spectacular self-titled debut EP.
Though furnished stylishly with beautiful, flowing music, Hawk's vocals are very much the star performer of the EP. We've heard her singing being compared to Bush or Newsom before, but this is too often the get-out-of-jail-free card for reviewers of original female artists. In truth, here we come closest to the previously unparalleled debut of Blue Roses, and the little flicks and ticks of Hawk's voice never distract, but draw the listener in. On 'Maps' in particular, the little vocal affections are nips and tucks to an already stunning sound, serving only to emphasise the music's finer points.
There's a gorgeous, though not entirely ground-breaking cover of 'This Charming Man' added as a bonus for those amongst us who can't simply trust in original material, but the real prizes are Hawk's own compositions. 'The Value Of Gold' opens the EP, all harmonies and atmosphere – it serves perhaps as the best representation of Julie Hawk's work to date. If you don't enjoy 'The Value of Gold', there are two things you can know for certain; firstly, that you won't like the rest of Hawk's EP either, and second that you're probably a little misguided with the rest of your musical tastes, too.
Words: Stephen Thomas