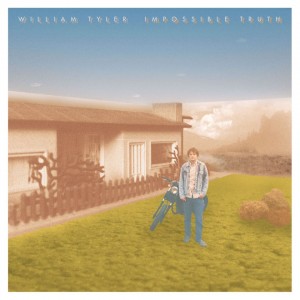 William Tyler will be familiar to fans of Lambchop and Silver Jews, having toured with both of those bands as a guitarist. He's also a well-respected solo artist in his own right, creating soothing instrumental music with his guitars. His debut, Behold The Spirit, was released on the humble Tompkins Square label in 2010, but for his follow-up, Impossible Truth, he's found a new home on the mighty Merge.
It's certainly quite the leap but Impossible Truth is very much a continuation of his earlier work. It is filled with Americana nostalgia yet, whilst it tips its hat in a firm direction to the 70s, it doesn't feel stuck in pastiche territory. It's also an album with song titles that seemingly evoke snapshots of moments in time of great importance to Tyler, whether that be of people ('A Portrait Of Sarah') or of places ('The Last Residents Of Westfall' and 'Hotel Catatonia').
All eight songs add up to a running time of just under an hour but what might have been a slog turns out to be a breeze in the capable hands of Tyler; he could probably noodle away for twenty minutes without a care in the world and it would still be captivating. This is because his songcraft is impeccable. It takes a very skilled musicianship to make six-minute long songs not overstay their welcome. As well-crafted as they are, what really draws you in is the warmth that is evident throughout.
This is particularly the case in its two bookend tracks. Opener 'Country Of Illusion' starts with a comforting country twang and ends with jubilant brass whilst closer 'The World Set Free' is filled with an initial sweet optimism and joy before gradually turning into a cacophony of noise – as if they couldn't contain their excitement any longer. Elsewhere, another standout is 'Cadillac Desert'; it might sound hushed but it also feels remarkably celebratory, especially with its opening low-end fanfare.
Tyler described Impossible Truth as "my '70s singer-songwriter record; it just doesn't have any words". Even without lyrics, this is a compelling listen that seems effortless. Whilst its aesthetic largely remains the same, it is extremely consistent and, at times, wonderfully ebullient.
Words: Max Raymond