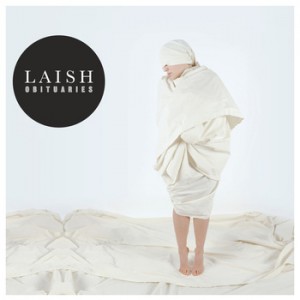 Obituaries are quite clearly the best part of the newspaper. Why? Because you get a short and easily digestible bit of history, written by a person with actual knowledge of the topic, and you always learn something new.
It's perhaps a bit atypical to be quite so enthusiastic about obituaries as the protagonist of Laish's second album – he cuts them out every day while drinking his morning tea – but you can definitely appreciate where he's coming from. So, here's the thing: interesting, unexpectedly funny lyrics in a breakup album. Toni Braxton this is not.
In fact, a surprising amount of humour and downright chirpy pop runs throughout this record, despite Daniel Green (Laish lead singer, songwriter and all-round main guy) describing it as 'classic songs of sex and death'.
The clarinet may seem faintly dirgelike when opening the album, but by 'Warm The Wind' it swings along jauntily, joined by a violin and overlain with Green's distinctively charming, warm yet lugubrious voice (a voice that does occasionally verge into what they apparently call "pitchy" on TV's The Voice. I've never seen The Voice, so I'm sticking with "charming"). Stand-out track 'Carry Me' fair stomps along, driven by electric guitar and layered with adorable female backing vocals.
As befits a band composed of members of Brighton's Wilkommen Collective, there's quirky well-crafted orchestration galore. The aforementioned clarinet and violin with added accordion ensure this is definitely 'folk', but there's not a hint of twee – think Leisure Society/Neil Hannon rather than blokes in tweed sitting on haybales strumming banjos.
So, building on their well-received first album and their reputation for playing quite joyous, rousing live sets, Laish have produced something very solidly entertaining. Much like the obituaries of the title, it's never depressing, usually interesting, often amusing. Seems to be one to check out live, in some nice
festival, in some sunshine. Which is lucky, as they're playing everybody's-favourite-festival-where-the-sun-always-shines, End of The Road.
Words: Natalie Roberts