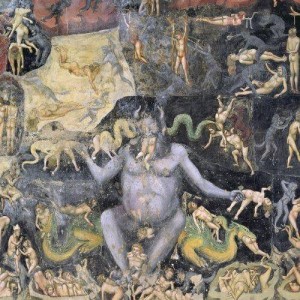 Monkey Minds In The Devil's Time is an album that feels divided into two halves, both good in their own way. For those of us who grew up listening to the Beta Band, Steve Mason's voice is immediately soothing. His third solo album has much in common with Villagers' Awayland or the later albums of Eels, in that it handles heaviness with stoicism; Mason has long wrestled with depression, but his songs often maintain a comforting atmosphere. 'Lonely' sings of falling to your knees, crying, and fighting with the ones you love to a soundtrack that feels nothing short of joyous. Most of the tracks feature found sounds, as if this is an album that you can absorb into your own life, without ever being vanilla enough to be background music.
'From Hate We Hope' has a beautiful bassline; fuzzy, echoing vocals are broken by a moment in which Mason speaks directly into your ear, talking about being a child on Christmas day, thinking "how amazing it is to be human". This reminds me of Jarvis Cocker's Sunday Service in its gentle intimacy. 'Oh My Lord' moves swiftly on to lovely thudding drums, with a subtle gospel influence that runs through the whole album. I can imagine burly men crying to the gradually growing euphoria of 'Never Be Alone', which is reminiscent of Elbow's 'One Day Like This' in the mood that it creates.
The following short, sharp, frightening piece 'Behind the Curtains' shows that Mason has the capacity to be discordant and disorienting, and is what slices the album in two: it's like a blast of stormy winds, a nightmare. 'More Money, More Fire' is a piece about political protest and the London riots, Mason taking a back seat to rapper MC Mystro, whose direct speech conveys anger more effectively than Mason's soft vocals could. 'Fire!' follows on from this, with a devilishly catchy chorus, ending with a female voice speaking about a 'minor act of rebellion'. By this point the core of the album isn't the lyrics of the songs, but the ebb and flow of the music, which has its own articulacy; 'Operation Mason' is completely absorbing. 'Fight Them Back' continues in a protesting vein; the most powerful parts are spoken rather than sung, concluding with soundbites about masses of people being violently controlled from the centre, and Libya as "a goldmine of a country", with tangible disgust. 'Come To Me' moves back into a dreamier, intimate mood without offering any kind of neat closure; it concludes with the sound of falling rain and thunder, quietly uneasy, as if the demons summoned up in the last half of the album can't be made to rest.
Words: Becky Varley-Winter