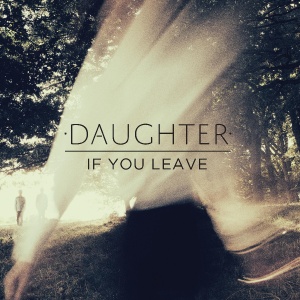 The name If You Leave could suggest either anxiety or a threat, and this record's songs explore fear in a very honest way, crawling inside the coccoons of anaemic, unready creatures, pulling them out, and putting them in the light. This does not make for a comfortable ride: "I'm sorry if I smothered you – I just wish I'd stayed inside", frontwoman Elena Tonra sings in 'Smother'.
This might be claustrophobic, but the songs are beautiful, full of an echoing vulnerability reminiscent both of Bon Iver and the xx. The lyrics often express helplessness, but the sound doesn't; there's a propelling beat that cuts into opening track 'Winter'. Similarly, 'Youth' has a sustaining pulse; as in Florence and the Machine's 'Dog Days Are Over', there's pleasure in the fear. 'Lifeforms' has a lovely gathering momentum, alongside its queasy lyrics, which are savage, wielding anger and hurt like weapons: 'You can try to forget me, but I won't let you easy, I'm falling out in the water, I start to sink […] Just like insects, clean up the dead you leave behind". It all starts to feel like a revenge tragedy.
'Human' sounds more like a clean slate: "despite everything I'm a human". "I think I'm dying here" immediately follows, but I don't quite believe it. "Take me out of this place I'm in", Tonra sings, and the music does it, almost magically. I wish it didn't end on a down note. As with Laura Marling's movement from the timidity of Alas I Cannot Swim to the assurance of I Speak Because I Can, there is an urge to tell them they are much less fragile than they think. Hidden in the apparent passivity, hoping for rescue, there is this endurance: "I've a feeling that I should see someone, just to find out if I'm all right. By the morning I will have grown back," as Tonra sings in 'Amsterdam'.
The final song, 'Shallows', still calls "Find me lying on my back, in the shallows", but there's peace in 'Watching the stars collide". It 's apocalyptic but exhilarated, possibly cathartic. If You Leave feels like an album to turn to with a bruised heart, like the best Morrissey songs; there's no censorship of pain here, and strength in expressing it so well. I'm excited to see what Daughter do next; if this album faces up to heartbreak, what will the next one explore?
Words: Becky Varley-Winter