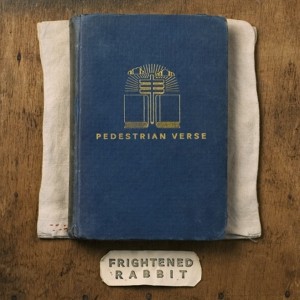 Frightened Rabbit have set their sights on achieving household status with fourth album Pedestrian Verse. Known by those who keenly follow the rock genre, but overlooked by those with a more passive approach, the five-piece are muscling their way onto the list of Scottish stadium fillers that includes the likes of Snow Patrol and Biffy Clyro.
Opening track 'Acts of Man' has an intriguing keys-only intro that steers away from the traditional pop structure. It's an engaging start, with thumping drums reverberating as if in an arena, and the gradual introduction of instruments leading to a great crescendo that sets the tone for the record.
The vocals are open, honest and frank. Most of all though, they are big.
The pace picks up for 'Backyard Skulls', which sets off with an incessant, almost nu-rave drum beat. The lead riff rises and falls over a rolling bass line and plenty of Hammond organ. 'Holy' doesn't let up either, introducing a garage rock feel. The instruments are stripped back and the bass is given the lead, invoking Joy Division.
It is 'The Woodpile', though, that is the best contender for standout single. The beat is deliberate and anthemic and the chorus is the strongest in a line of sing- a-long friendly sections. It is immediately accessible and aimed to get big crowds rocking and bouncing to the echoing multiple part vocals.
The lyrics too, mix continuous melancholy and self-deprecation with some great imagery in a way that will grab the hearts of the quintessentially insecure British teenager, and have eyes artistically watering in the depths of the audience.
It is not all thumping percussion and booming voices though. There is plenty here to please those who prefer their music more unpredictable and intimate. 'Dead Now' is far calmer and has a natural groove, with a good mixture of time signatures. 'Late March, Death March' has reassuringly lo-fi snare, whistling and bright piano parts for an all-round folkier sound. Closer 'The Oil Slick' splices acoustic and electric guitars with a far funkier beat to produce the most mature track of the lot.
Pedestrian Verse is a carefully crafted album. It is at times yelling for attention from the passer-by rock fans who are yet to have their heads turned. In fact, you can probably expect it to get plenty of airtime in the coming months. It will inevitably also become the soundtrack to at least one summer festival. With that said, the songwriting, although a little safe, doesn't suffer and those more familiar with Frightened Rabbit's work should find album number four pretty friendly.
Words: Simon Morgan