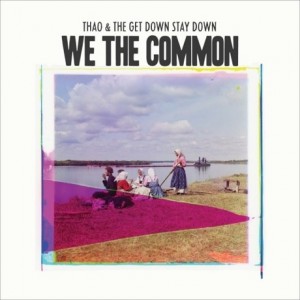 You wouldn't guess from the uplifting, rhythmic hook of this album's title track 'We The Common (For Valerie Bolden)' that it has sombre roots: Valerie Bolden is serving a life sentence in California State Prison, and Thao Nguyen met her through charity work with the California Coalition for Women Prisoners (she speaks interestingly about this inspiration for the album here). This knowledge gives the song an element of personal testimony, the 'voice' of Valerie coming through: "All they wanted was a villain, a villain, and all they had was me"; "I love my girl, will you remind her?" The sound reminds me of MGMT and the Yeah Yeah Yeahs, while the words honour the powerless: "Oh, how we the common do cry". Whether you pay attention to the lyrics or not, it's a great rallying-song.
The lyrics of 'City' also gesture towards protest – "No, no, nobody knows, where all the money goes" – and it's a great song, with odd bits of xylophone and drums that remind me of The White Stripes, while the eccentricity and fierceness should please anyone who loves Tune-Yards. 'We Don't Call' is less easy listening, half-dreamy, half-abrasive; Thao is funky and danceable, but doesn't seem interested in being smooth or 'nice' about it. This is part of the fun.
'Holy Roller' is another rallying-song with an addictive chorus, full of life and texture (Thao definitely makes full use of her percussion section), while 'Kindness Be Conceived' is a country-inflected duet guest-starring Joanna Newsom. The instrumentation is fairly simple and stripped-down here compared to other songs on the album, letting their combined voices take centre-stage; it's a bit of a break from the rampant layers of noise elsewhere.
'The Day Long' is bass-heavy, while 'Every Body' is raucous, joyous and playful, a pure pleasure to listen to, followed by the doomy, rumbling 'Clouds For Brains'. 'Human Heart' veers back to uplifting mode again, with a honking brass fanfare: lyrics suggest all this feeling might be "in vain", but it's pretty powerful. Final track 'Age Of Ice' sings/yells "slowly we all lay down!", playground-style, but the music doesn't seem to want to lay down, get down or stay down at any point: this is a footstomping album, a riot.
Words: Becky Varley-Winter