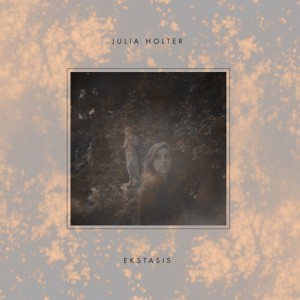 Ekstasis is a shape-shifting album, reminding me of Grimes, Little Dragon, Laurie Anderson, Sigur Ros, Emilie Simon and Miles Davis by turns, blended into chorally-minded, near-orchestral compositions that defy any simple explanation. 'This Is Ekstasis' is a true soundscape, evoking mountains and caves with thudding drums and overlapping vocals that then segue into a fun, slightly mad big-band beat. Sometimes Julia Holter's sheer inventiveness veers into an ethereal fuzziness that leaves me grasping at her sharper melodies, but there's definite beauty in these songs.
'Goddess Eyes I' and 'Goddess Eyes II' repeat a pure lyric, "I can see you but my eyes are not allowed to cry", borrowed from Euripides' tragedy Hippolytus, followed by the more-tender line "But in your dying you are dear to me". These two songs bridge the gap between Holter's last album, Tragedy, and this, Ekstasis, meaning ecstasy in ancient Greek; 'Ekstasis' combines ek, 'to stand outside or beyond', and stasis, meaning 'to stand still'. This reflects the mood of the album, which varies journeying with moments of being becalmed in space: 'Goddess Eyes I' is more crystalline, whereas 'Goddess Eyes II' transforms the repeated refrain of the lyrics with funked-up handclaps, giving the song a gospel-like atmosphere.
'Boy In The Moon' is slow-rising, full of atmospheric drones and synths; 'Für Felix' is lighter, with a zigzagging noise like an electronic lark or a firework falling, and a spaced-out, circus-like ending. 'In The Same Room' is sweet and dreamy, perhaps the most accessible track here, happy la-ing contrasting with a wistful hopefulness in the lyrics: "I can't recall this face, but I want to, but I want to". Such simple and direct words make this album more than musically deft, giving it soul with a light touch.
Words: Becky Varley-Winter