Abi Wade – Heavy Heart/Faker
Often compared to Joanna Newsom and Regina Spektor, cellist-percussionist Wade suffers the same pitfalls as those kindred spirits in that the germ of a great idea can be lost in excessive quirkiness. 'Faker' is the better of this double A-side release, aided by a Beth Jeans Houghton tinge of darkness.
Family Machine – Skeletons & That
The fact this is billed as a Hallowe'en single tells me I should have got around to these reviews sooner. In truth, though, it is a brittle ballad lamenting the loss of a close friend – "I still call out your name, it doesn't sound the same" – which happens to reference "ghosts and skeletons and that", and stands up without the "seasonal" connections.
Killing Fields of Ontario – Left In Shadow
The country-tinged Leeds indie-rockers showcase their gentler side with a ballad in contrast to previous single 'Cloud' and much else on show on forthcoming album How The World Ends. Listen out for a superb false ending, the song seemingly reaching its conclusion but barrelling along for another half-minute on a discordant squall of instrumentation.
Magmana – Rabbit Holes
Brooklyn natives Joan Tick and Caleb Lindskoog offer up a taste of their album Fiend, and a very enticing one it is too. Starting off sparse and minimal, based around Tick's husky vocal, the song builds as Lindskoog's instrumentation drives it to a crashing last 30 seconds.
Rabbit Holes from Magmana on Vimeo.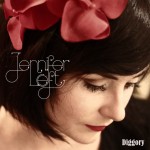 Jennifer Left – Diggory
The Brighton-based, Newcastle-raised singer describes her style as "non-retro" but nevertheless slots into the Imelda May/Caro Emerald school of thought. With a classy swing feel and a Buster Keaton-inspired video, 'Diggory' tells the tale of a man beaten down by work and drink. The single is backed by a bare-bones "Diggory Pokery" version and a twinkling cover of New Order's 'Temptation'.
Reuben & the Dark – Shoulderblade
Given his backing from Florence and the Machine's manager and drummer, Calgary's Reuben Bullock emerges with a surprisingly understated debut single, with hushed vocals and occasional percussive crescendos. There are glimpses of quality here, notably on a soaring chorus, but little to set it apart from the crowd.
Songs For Walter – Tougher Than A Soldier's Boots/Where Are You Going?
Laurie Hulme moves on from reconstructing his grandfather's life through music, this time drawing inspiration from Louis Theroux's documentary on the Westbro Baptist Church ("Don't look up now 'cos God is vengeful, and God has got his sights on you") on the A-side, while the B-side melds large and small in unusual fashion, with a piano recorded through a dictaphone.
Words: Tom White