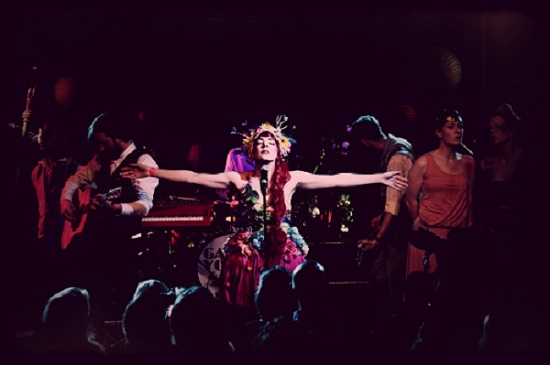 Bounding onto the ornate stage like some extra feature from a Baz Lurhmann DVD, Gabby Young and Other Animals grabbed this Bush Hall audience by its collective furry lapels and made them spill Red Stripe all over each other. Launching straight into crowd-pleasing, album-opening 'In Your Head' the band had the audience jumping like grinning crazies from the first bar. Often Young talked in between songs about not playing live very often but it's clear that among a growing faithful, a Gabby Young and Other Animals gig is a guaranteed great night out.
After a day at work that left me feeling more down than Eeyore after he's dropped an ice cream, I was expecting to write about the good time other people had at this gig. But GY&OA didn't just make me smile, they forced me to. I defy anyone to go to a gig containing a sousaphone and not smile. When Souzy and her trainer are bouncing around on the bass line of great songs, it's a whole lot of fun. Add to the sousaphone and the songs a lead singer looking like an eighties Statue of Liberty with the best voice in England at the moment, then frankly, I think less of you for not being there.
Most of the set came from latest album The Band Called Out For More but one of the loudest cheers of the night was for 'Um', off of 2009's We're All In This Together, a live staple and it's easy to see why. Funny lyrics, a great tune, audience participation, 'Um' is the quintessential Gabby Young live song.
A lot of reviews of Young and the Gang seem to be happy to reduce them to a bit of a cartoon. The brass section and animal hats allow reviewers to make lazy Baz Luhrmann references and move on but really, she's a complicated beast. Songs like 'Male Version Of Me', 'Segment' and the beautiful, bittersweet 'We're All In This Together' show a much broader scope of sounds than you might expect.
Support came from Other Animal Stephen Ellis, who has a surprisingly downbeat definition of a sea shanty and a knack for unpredictable imagery – I particularly like the idea of wanting to be buried at sea "until my fillings rust". A skilful guitarist, I think Ellis should avoid annoying me in future by not mixing 'Love Will Tear Us Apart' and 'Feed the Birds' from Mary Poppins. Fucking sacrilege. Stephen is also the lead singer of REVERE who are at the Hoxton Bar and Kitchen on 18th December. Might be worth a shout.
That was Gabby Young and Other Animals' last show of the year, with some dates lined up for next February. Recent TV appearances could signal that tickets may be slightly harder to come by for any shows next year.
Paul Malloy