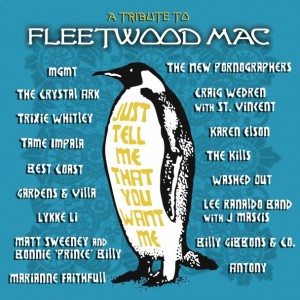 For a band with such an inspirational back catalogue, it is a crying shame that many of the young generations would not know 'Tusk' or 'Go Your Own Way' unless it appeared on an episode of Glee or Geordie Shore (apparently the former have already "paid tribute"). So you can breathe a sigh of relief that today's folk community have contributed heavily to a new tribute to the great Fleetwood Mac.
The album starts off in a very pleasant fashion with Lee Ranaldo Band's (featuring J Mascis) version of 'Albatross'. Next appears one of the more celebrated artists on the compilation, Anthony, singing one of the more well known songs, 'Landslide'. Whilst Anthony's trademark vocals are a perfect match for this poignant number, I would have liked to have seen him do something a bit different with it, instead of playing it safe.
One of my personal highlights on this album comes from Trixie Whitley and her take on 'Before the Beginning'. Sleek, soulful and brilliantly produced, Whitley's beautiful vocals almost cause you to forget the original.
Other notable contributions come from Tame Impala. As expected, the Australian band offer up one of the more unique covers on the record. Love it or hate it, no one can fault their innovation. Best Coast brings us an upbeat poppy 'Rhiannon', whilst Matt Sweeney and Bonnie 'Prince' Billy create a stunning, tender version of 'Storms' in which their voices blend beautifully.
The likes of the legendary Marianne Faithfull and The Kills offer up very credible takes on their respective songs and for the most part this is a great tribute to a great band. One negative aspect of Just Tell Me That You Want Me is the glaring omission. Where is 'The Chain'? Or 'Go Your Own Way'? Or even 'Songbird'?
Like every compilation, there will be songs on here that you will only listen to once. And there will be others that potentially replace the original in your hearts. One thing is for certain: this record reaffirms the greatness and importance of Fleetwood Mac and is a must-have for any past, present or future 'Mac' fan.
Words: Carly Goodman