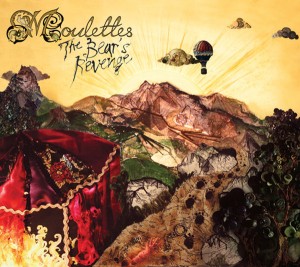 From the opening notes of the frantic opening single, Sing Unto Me, the Moulettes sophomore release The Bear' Revenge sweeps you up into a world of traditional sounds made suddenly fresh. Georgina Leach's stunning violin playing, Hannah Miller's cello, banjos, bassoons, even a hammered dulcimer, come together in a kaleidoscope of sounds, often thrilling and never ever dull as they sweep you through a musical journey at lightning speed.
Each song takes you to a different place, from the down-home knees-up of 'Country Joy' to the heartworn 'Some Who You Love' and the sad lament of 'Song Bird'. 'Unlock The Doors' brings a more menacing tribal beat while the haunting 'Half-Remembered Song' emerges through a misty fog. 'Grumpelstiltskin's Jig' does exactly what it says on the tin and so, come to think of it, does the stirring closer 'Blood and Thunder'.
The album is at once funky and poppy, light and dark, the Moulettes' ability to make the old sound new transporting you into a different time and space. To make this record, they've got former member and now Mumford & Son Ted Dwane back on board, as well as recruiting the likes of Liz Green, Irish flute and whistle player Ríoghnach Connolly and renowned banjo-wielder Matt Menefee for guest appearances that give their sound new dimensions. The result is a joy to behold.