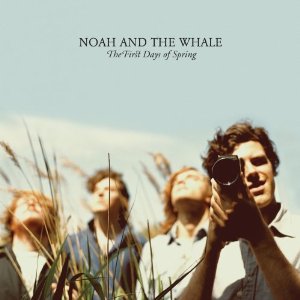 If Noah and the Whale's debut album Peaceful, the World Lays Me Down was a summer fling, then their second offering The First Days of Spring is all the heartache and introspection that comes with the demise of your first true love.
A lifetime of heartbreak away from the whistling and clapping of their twee-folk debut, The First Days of Spring is Charlie Fink's brutal confession on the state of his heart following his relationship with Laura Marling. Yet be assured that despite lyrics like "I'm the flower you're keeping/That without love will wilt and die", this album is not pure, self-indulgent sorrow, but a recognisably honest, intimate and oddly uplifting exploration of love and loss. It is also remarkable that the other members of the band manage to stamp their mark onto this highly personal record, having cultivated a more sophisiticated sound that prevents Fink's lyrics from wallowing in unbridled sentimentality.
When glimpses of the old, sunnier Noah and the Whale do shine through, such as when the pace picks up on 'Stranger' or 'My Door is Always Open' as they build up to a hearty sing-along, it is with an understated maturity rather than the gay abandon of previous offerings. Except, that is, on 'Love of an Orchestra' and the preceding 'Instrumental I', where excitable horns and strings make it all sound suspiciously like a Disney theme tune (not necessarily a bad thing). With choral backing to lines like "I know I'll never be lonely/I've got songs in my blood/I'm carrying all the love of an orchestra" the song could be the epitome of cringeworthy pretentiousness; however, coming as a breath of fresh air in the middle of the rest of the heavy hearted anguish, it can't fail to make you smile as it reminds you that, like the seasons, love will come again in due course. In fact, with the imagery of approaching "blue skies" recurring throughout, the lingering impression left by this beautiful album is not of desolation, but of the broken heart's cautious optimism at the freedom to pursue new possibilities and loves.
Words: Lois Jeary