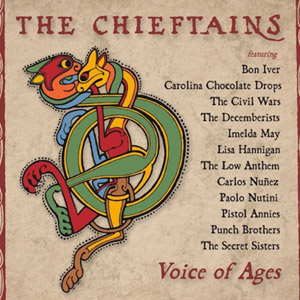 When marriages have lasted 50 years, it is traditional to receive presents of gold. For Irish trad-folkies the Chieftains, that particularly anniversary has brought a variety of even more glittering gifts. Keep your Rolex watches and charming carriage clocks. Bin the broaches. Give me guest slots from Bon Iver, Lisa Hannigan, The Civil Wars, The Decemberists et al.
That such a special career landmark should be celebrated by collaboration might be unusual, were it not for the fact that many of the band?s most transcendent moments have come in the company of others -? not least their high watermark alongside Van Morrison, 'Irish Heartbeat'.
Of course, anybody with an natural aversion to celtic reels and the collected sound of bodhrans, fiddles and whistles need explore no further. The featured artists here are not intended to drag the main protagonists into new areas,? instead they are paying very sincere homage to the Chieftains and their trademark sound.
Hannigan and The Low Anthem get two of the better known standards – the former fitting like a glove alongside the slow burr of 'My Lagan Love' and the latter offering a restrained take on Ewan MacColl's 'Schools Days Over'.
'Down In the Willow Garden' confirms what many have suspected for some time – that Bon Iver?s Justin Vernon is perhaps the most versatile and recognisable voice of recent years. Stick him in a deserted cabin with a broken heart, give him a studio full of effects or, if you're James Blake, auto-tune the hell out of him. Regardless of the context, he never gives less than an emotionally resonant performance and he does so again here against a backdrop of gentle strums and winsome violin.
On 'Pretty Little Girl' and 'The Frost is All Over' the Chieftains unleash their more raucous, up-tempo side, with the Carolina Chocolate Drops and the Punch Brothers coming along for the ride.
There are other engaging cameos along the way, while the 11-minute jam of The Chieftains Reunion showcases the musical chops that brought so many collaborators to the table in the first place.
Words: Rory Dollard
Tracklist:
1. Carolina Rua – Imelda May
2. Come All Ye Fair and Tender Ladies – Pistol Annies
3. Pretty Little Girl – Carolina Chocolate Drops
4. Down in the Willow Garden – Bon Iver
5. Lily Love – The Civil Wars
6. The Lark in the Clean Air / Olam Punch – Punch Brothers
7. My Lagan Love – Lisa Hannigan
8. When the Ship Comes In – The Decemeberists
9. School Days Over – The Low Anthem
10. The Frost is All Over – Punch Brothers
11. Peggy Gordon – The Secret Sisters
12. Hard Times Come Again No More – Paolo Nutini
13. The Chieftains Reunion
14. The Chieftains in Orbit with Nasa Astronaut – Candy Coleman
15. Lundu – Carlos Nunez
Listen online: