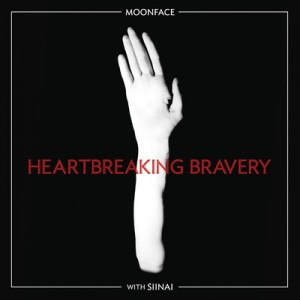 Spencer Krug's second album as Moonface comes in the form of the ambitious Heartbreaking Recovery. Enlisting Finnish band Siinai to help, this is a collection of synth-based tales of heartache and unrequited love which promises to leave the listener deeply affected in some way.
One word that keeps cropping up as I listen to this record is 'intensity'. Each song is extremely powerful in its delivery, which at times verges on severe. If the listener craves a deep dark musical journey, then they have come to the right place. However, the intensity sometimes appears disjointed with the lyrical message Krug is trying to convey. 'Shitty City''s relentless instrumentation coupled with the gloomy lyrics doesn't seem to fit properly.
Apart from the odd musical mismatch, Heartbreaking Recovery remains a really thoughtful, engaging piece of art. Songs like the mellow 'Yesterday's Fire' and the volatile 'I'm Not the Phoenix Yet' have a touch of Joy Division about them (which is certainly not a bad thing!) and Krug's vocals often make you wonder if the late Ian Curtis is living inside the Canadian singer.
A highlight of the record is the beautifully dark 'Faraway Lightning' where Krug's defiant lyrics and Siinai's mystical keyboard work fit perfectly to create an epic in miniature form. The record closes in glorious fashion with the grand masterpiece of 'Lay Your Cheek Down' where the collaboration again works seamlessly together for the listener's benefit.
Dark, relentless and haunting, Heartbreaking Recovery is an album that will not be easy to forget about. Moonface has combined intricate music with thought-provoking lyrics to create an experience which is at times, epic. However, the almost overbearing intensity of the record may prevent the listener becoming emotionally involved. A great listen nonetheless.
Moonface "Teary Eyes and Bloody Lips" from Secretly Jag on Vimeo.