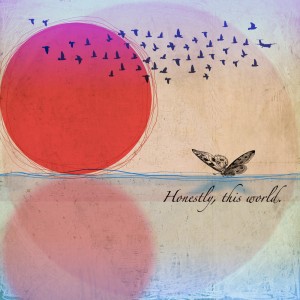 This debut album from the Moth and the Mirror has been highly anticipated by many in the Scottish music scene and beyond. Sometimes, with an album so anticipated, it can often be hard to live up to expectation but I am happy to report that it certainly doesn't disappoint. The Moth and the Mirror are something of a supergroup featuring erstwhile members of such favourites as The Reindeer Section, Admiral Fallow and Frightened Rabbit among others.
Stacy Sievewright's beautiful, clear vocals are often at odds with the lyrics and edgy music and lead single Germany is no exception to this. It is a very strong opening single as it shows off many of the strengths of the album including how well all the different vocalists work together. Fire is a definite highlight and is the most poppy this album gets. It is a very catchy tune that you will be in your head for days. The influence of the other bands the Moth and the Mirror are in does come through at times but it all comes together in a very different way which makes it clear that this is a very different band.
This album goes from dark songs full of minor key guitars and rumbling bass such as the title track to far more acoustic stripped back songs such as Closing Doors which invokes the feeling of cold, grey mornings when you just can't be bothered getting up. These changes in mood easily stop the album from becoming samey.
This album is a fantastic listen and is the best I've had the pleasure of reviewing so far. It is often haunting and world weary, as indicated by the title, and shows the immense talent of this group. I'm looking forward already to what else this band has to offer.
Words: Eala Macalister