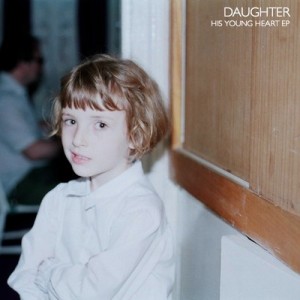 Solo Londoner Elena Tonra, known musically as Daughter, quickly gained an online following after the release of a four track demo EP earlier this year. That collection, almost entirely recorded with just a guitar and Tonra' s delicate vocals, revealed a quiet – but undeniably powerful – charisma.
Daughter' s latest EP, a four-track work called His Young Heart, builds upon Tonra' s intuitive skills as a songwriter, exploring deeply personal avenues whilst seemingly taking inspiration in atmosphere from Bat For Lashes' Natasha Kahn, building a quivering wall of sound constructed from layers of vocals, percussion, and lashings of reverb on 'Candles'.
The sense of ambience present in Daughter' s first demos is still present, however, and one listens imagining that the singer has performed the whole record live with a dozen 'Daughter clones' accompanying her. Sometimes this use of effect can make the recording feel more lo-fi and tinny sounding than one might expect from a full EP release, something that makes me wonder if Daughter is still a ' project in progress' .
But the recordings themselves are full of charm, occasionally featuring the wonderful embellishment of fingers sliding across strings, serving as a tactile accompaniment to the sexual current that simmers beneath the surface of each song. If Tonra were to work with a major label, could this personal touch be lost completely?
In this collection Tonra has created an exciting prospect for record companies and publishers – her songs are the future accompaniments for the gut wrenching final scenes of US hospital TV shows, of intense, high profile teen dramas and, on a more local level, your own future heartache.
Words: Frankie Ward