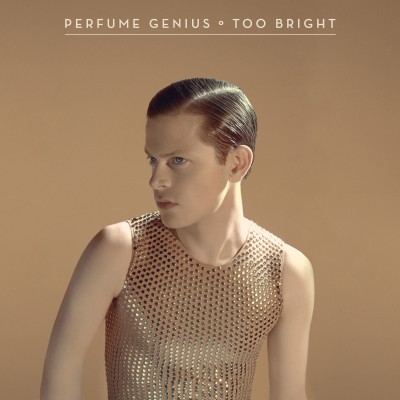 Mike Hadreas, operating under the Perfume Genius moniker, returns with Too Bright, his third record and his best by some lengths. After the underground success of Learning and Put Your Back N 2 it, this record should be the one to give Hadreas the breakthrough he so richly deserves.
Chances are that somewhere over the summer, 'Queen' will have been playing, either in the high street chain stores, on the radio, or serving as backing music for some terrestrial television shows.  As far as 21st Century pop songs go, it is a modern masterpiece, a rhythmic beat coupled with lyrical barbs centred on America's lack of understanding about homosexuality ("No Family is safe/When I sashay").
This isn't the only bona-fida pop song on Too Bright, however. Out of the 11 tracks on offer, there are only two which are more low-key in their execution; the absolutely stunning 'No Good' seeing Hadreas channeling the very best of Rufus Wainwright, featuring a sparse piano line and a haunting vocal delivery, layers and layers by the end creating an ethereal howl.
The other, 'My Body', is two and a half minutes of heavy bass, Hadreas' voice undistinguishable over the rumbling instrumentation. It's placement on the record is questionable, especially so when sandwiched between two softer, melodic tracks.
Hadreas says in making Too Bright, he "tried to stop overthinking and just let go" and it shows. Softer sounds are replaced with something bolder, confident and assured, experimental without being alienating. Forthcoming single 'Grid' is a slice of disco-infused post-punk, whilst the record's title track is delicate, the silences accentuating the force of emotion in Hadreas' singing.  It is a record of true beauty, diverse enough to keep the listener engaged, and is the work of someone at the very top of their craft.