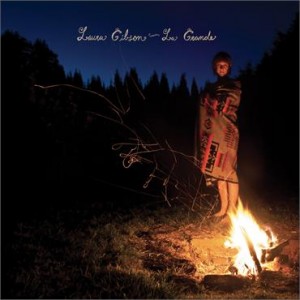 To say Laura Gibson could've stepped out of a sepia photograph circa 1880 is also to give to a fair indication of how her music sounds. There's something curiously anachronistic about her musical sensibilities, a quality that permeates her third solo album, La Grande, and sets it apart from the plethora of female, dream-folk artists currently dominating the scene. With its galloping drum beat and two-note bass line, the title track wouldn't sound out of place on an episode of Rawhide, and lyrics like "when we've shaken the dust from every boot and spur" propel the listener into a romantic vision of the old Wild West. With talk of the moon, stars and old sugar mill, some speedy fingerpicking and a couple of bar-room piano refrains, it's almost impossible not to imagine world-weary barmaids pouring whiskey for hard-bitten cowboys and maybe the odd sheriff.
Gibson is only a visiting ghost, however, and several of the following tracks have a more contemporary- folk feel. Both 'Milk-Heavy, Pollen-Eyed' and 'Crow/Swallow' are sleepier, more contemplative numbers in the style of previous album, Beasts of Seasons, while 'Lion/Lamb' demonstrates Gibson's refusal to remain fixed in one decade or genre – sometimes in the same song. It's a slightly bewildering fusion of styles – the vocal remains old, old country while the drums, bass and woodwind sound like the theme tune to a 1970's lifestyle advertisement. The effect is oddly charming. With its dramatic bass drum, 'Skin, Warming Skin' takes us back to the Western theme, a compelling concept which sets the album apart from Gibson's previous material which, although subtly lovely, occasionally lacked variety and purpose. 'The Rushing Dark' is most honest of its origins and is a crackling, eerie, worship-style song which owes more to Jimmie Rodgers and the Carter Family than anything produced in the last 70 years.
Gibson currently resides in Portland, a town whose main industry appears to be producing great folk artists, prompting inevitable comparisons between its various exports. Certainly, Gibson shares vocal similarities with Joanna Newsom, for example, but her voice is more understated and less obvious than her more flamboyant neighbour. On repeated listenings it emerges as even more idiosyncratic – an old-world voice that lends a pleasing dissonance to the album. Geography is fundamental to Gibson, who describes La Grande, a town in Northeast Oregon, as somewhere "people usually pass through on their way to somewhere else, but which contains a certain gravity, a curious energy".
It may be a lazy link, but there is certainly something of the wanderer about Gibson as she drifts through the centuries, an ancient soul collecting bits and pieces to create something unique and beautiful . Along the way she's aided by such heavyweight collaborators as Calexico's Joey Burns and Nate Query and Jenny Conlee from The Decemberists, but Gibson is firmly in the producer's chair throughout. Some will find La Grande's quirks and genre-pillaging overly baffling, but for others it will be the sound of a rare and talented artist creating an exceptionally unique and uncompromising sound.
Words: Theresa Heath