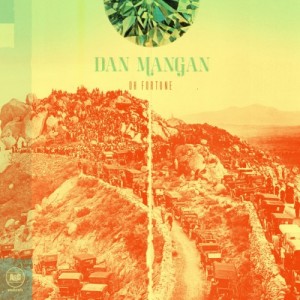 "Please be merry, when I am buried/In the ground". Despite recently playing for Kate n' Wills in his native Canada, FFS favourite Dan Mangan seems a bit glum right now. Moving on from the flimsier topics (robot love and that) expressed in 2009's Polaris-nominated Nice, Nice, Very Nice, Dan's taking the opportunity to question bigger things: humanity, war, death. Not quite so nice anymore then.
The difference between the last album and this is immediately apparent on opening track 'About As Helpful As You Can Be Without Being Any Help At All'. Gone is the acoustic guitar strum, replaced by a discordant orchestral crescendo which segues into a Viennese waltz. Mangan has moved away from the alt-folk label, working with free-jazz experimentalists to create a more complex, anthemic sound. It can take a few listens to get used to, given the catchy directness of his earlier work, and it's not an album that can be dipped in and out of easily.
Lyrically, Mangan is as observational as ever, but more oblique. Despite reprimanding himself early in the album for trying to make sense of the world "I should know better by now/There's only so much to go around" on 'How Darwinian', we still get the war lament 'Post-War Blues' and the Radiohead-esque 'Rows of Houses'. There's no solution here either – closing track 'Jeopardy' consists entirely of questions. If you're feeling a tad melancholic about the state of society right now, rest assured Dan's right there alongside you.
Considering the bleak sincerity of the lyrical content, Oh Fortune is incongruently jubilant. Mangan's distinctive husky voice sounds surprisingly untroubled, at times soaring above a glorious, joyful brass section. Despite experimentation with time signatures and instrumentation everything flows smoothly, from the stomping title track through Jonny Greenwood-style guitar twiddling on 'Leaves, Trees, Forest', to end on distinctly chirpy two-minute swing jazz trumpet solo.
Definitely not a continuation of Nice, Nice, Very Nice, Mangan has created a warm, rich, epic but slightly disconcerting statement of intent. He's all grown-up, and he's not afraid to show it. Excellent stuff.
Words: Nat Roberts