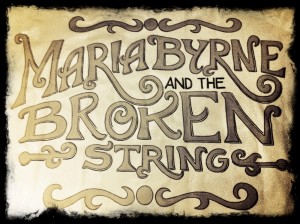 Apparently, Maria Byrne used to work as a welder, tackling hairline cracks in Rolls Royce jet engines. Having never taken a naked flame anywhere near a jet engine, I can only imagine it to be an intensive, noisy way to pass the time. Which would make it pretty much the opposite of Byrne's debut album, Little Basement. For this record, you're going to need a different set of adjectives. How about sweet, simple and infectious. Those should tell you most of what you need to know.
Little Basement is full of sing-along melodies, at once delicate and full of life. Almost all of Byrne's momentum so far has been built through radio play, and its easy to see why given the charming tunes that make up this record, not least the toe-tappers 'Home' and 'All You Need'.
The celtic charm of her Irish upbringing shine through with the gentle fiddle adding a little fizzle, but the instrumentation is largely kept to a minimum in order to showcase Byrne's heart-warming vocals. The pace changes on the delightful 'Winter', which has an effect akin to a welcoming log fire on a cold day.
It helps to cap an accomplished debut that suggests Byrne has talent enough to keep her away from welding torches for as long as she chooses.