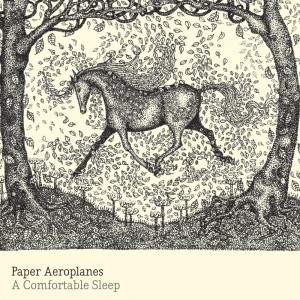 Sarah Howells and Richard Llewellyn are Paper Aeroplanes, a Welsh duo beloved BBC Radio 2, and, if their activity this year is anything to go by – this is their second release of the year – very busy indeed. Upon listening to A Comfortable Sleep, it's not hard to work out why.
A well rounded EP, A Comfortable Sleep showcases the silky, effortless vocals of Howells to perfection. The songs are warm, polished but bare, with her wide range exploited to great effect. She can move from breathy and earthy tones to something much sweeter in an instant. The overall effect is calming but not commanding – after repeat listens the songs are still not in my mind and I don't find myself haunted by the lyrics. It's not that the songs themselves are meaningless, but they don't seek me out and make me want to delve deeper into their world.
I wonder if the hints of experimentation featured on tracks such as 'All You Need' reflect an area that Paper Aeroplanes could explore further. Their occasional use of double tracking on Howells voice is haunting and moving, making me will the duo to go further with the studio effects. This record will be perfect for traditional folk lovers and those who love their songs simple, honest and restrained. But here's hoping that Paper Aeroplanes will take more risks with their next release.
Words: Frankie Ward