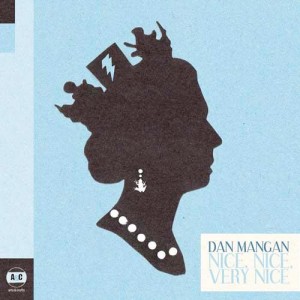 Dan Mangan is a folk-rock musician with a soft touch and vocals less strained and ragged than Mark Lanegan's. His latest album, Nice, Nice, Very Nice, is, indeed, a pleasant ode to songwriting and traditional craftsmanship. Piano, horns, claps, female guest vocals and inhaled silences accompany vocals and acoustic guitars, creating a lovely breeze over what otherwise could have been a much too typical folk album.
'Robots' is a pop teaser wrapped in caramel, 'The Indie Queens are Waiting' is a gentle but hip love song with laid-back lyrics, 'Sold' is a magnificent neighbour to country/bluegrass style with catchy and dandy-dancy tunes, while 'Fair Verona' implies a grandiosity of legendary figures with its pounding drumbeat.
On the other hand 'You Silly Git' are clever experimentations with background violins á la Andrew Bird and 'Some People' is a delightful cabaret-like wind-filled upbeat track with a higher pitch vocal that breaks with the tone of the rest of the album. The introspective moods stem from 'Et Les Mots Croisés' and the final somber 'Set the Sails', two meditative quiet pieces of beauty.
Nice, Nice, Very Nice, Mr Dan Mangan.
Words: Liane Escorza