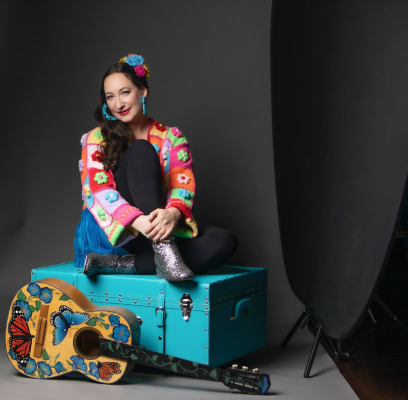 The spellbinding NYC-based songstress Rachael Sage has returned once again to grace us with her latest delicate and profound single 'Whistle Blow'. In this musical landscape, Sage navigates through murky territories of power dynamics and boundaries, exploring the aftermath of several high-profile figures' ignominious falls from grace. With an unflinching gaze, Sage delivers a stirring ode to the struggles of women seeking respect in the workplace, at home, and in the pages of history books. This propulsive and musically lush track is a masterpiece that will resonate with anyone summoning the strength to stand up for themselves and against oppression in any form.
Rachael once again continues to immerse us in a world of Americana, weaving together lilting tones of slide and acoustic guitars with the gentle warm swelling of horns. Her voice, alluring and captivating gracefully dances above the restful percussion and dulcet keys.
Taking some time to talk about her latest release, Rachael notes that, "When I wrote, 'Whistle Blow' I initially had one very specific celebrity in mind, who had recently fallen from grace via some pretty shocking public accusations. In the past I've tended to write more personally, pulling from my own specific experience or perhaps those of people who I've encountered in my travels, who've confided their stories to me. For this song, I decided to write from the imagined perspective of someone summoning the courage to speak out, stand up, and make it crystal clear that they have been mistreated by someone in a greater position of power."
She continues, "On the flipside, I wanted to also channel the courage and focus – a kind of imperviousness – that it takes to worry less about what people will think, than about sharing your own truth. The line 'I can hear your voice / singing don't look back – you have a choice' is describing all of the individuals someone may have met and been influenced by, upon whom they are drawing for strength. Sometimes the voices that most encourage us are authors, filmmakers, or maybe even our own ancestors. All of that confidence-gathering can contribute to a pivotal moment of truth, when someone is finally able to speak for themselves fully and clearly, with transformative determination."
In a world that can often feel fraught with uncertainty and instability, Rachael Sage's 'Whistle Blow' is a powerful reminder of the importance of speaking up and standing strong. Through her hauntingly beautiful music and deeply personal lyrics, Sage invites us into a world of courage.