Happenstance is a powerful force. For Sara Watkins, Sarah Jarosz, and Aoife O'Donovan performing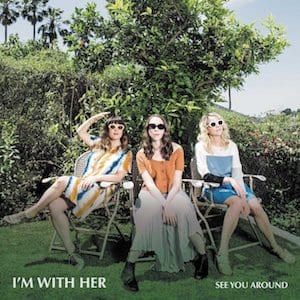 together at the Telluride Bluegrass Festival in 2014, created a beautiful friendship. Since then they have toured the world and now, at last, recorded their first album as I'm With Her, entitled See You Around.
For the most part the recording features just these three women. Recorded in Bath, England at Peter Gabriel's Real World Studios. The light touch of Ethan Johns insures that at the end of the day I'm With Her is pure, sometimes heartbreaking, music.
The instrumentation is sparse, placing emphasis on their vocal and instrumental talents. The tight harmonies of the three follow in the tradition of vocalists like the Everly Brothers, the Carter family, and contemporaries like All Our Exes Live In Texas. Yet their instrumental talents are also displayed, with all three contributing guitar in addition to Watkins fiddle and ukulele, O'Donovan shows a gift for piano and synth, while Jarosz displays her prowess on mandolin and banjo. Recorded live in the studio, the three just a few feet from each other, there's a sense of intimacy to the recording.
Opener, 'See You Around', is a melancholy take on knowing that while the relationship is over, the partners will be traveling in the same circles. "Breaking like the waves down on the coastline, breaking like the wine-stained glass that held my drink, breaking like the heart that's stuck inside my skin." The sadness is palpable yet there is also a sense of coming out stronger on the other side.
The real power in this disc is its harmonies, with these singers taking center stage leaving listeners breathless. Especially on a song like ''Game To Lose, where losing really isn't an option, "How much faster can somebody run if you're chasing a lover." 'Overland' serves up a modern look back at a time when the United States was smaller and the dreams were bigger. Yet lyrically it could be today, "If it isn't one thing, then it's one thing more, if it isn't a fever that shows you the door it's the air, or the water or the goddamn war."
The musicianship on display belies a harder edge behind the soft focus instrumental bed. All three of these women are instrumentalists of the highest order. While the volume may be muted, there is no questioning their craft. Ethan Johns wisely keeps the focus on these three women. With talents like these you don't really need anything else. May we see them around in this configuration for years to come.
Words: Bob Fish