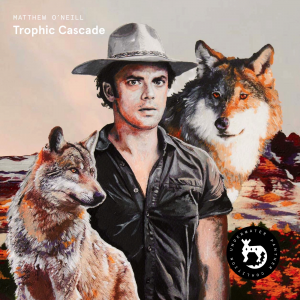 Blessed are the genre-benders. One might think that there are only so many chord progressions to take into account before music becomes stale, but breaking into the modern era are new sets of singer-songwriters willing to innovate in ways never seen before.
You'd be lead to believe that the "psychedelic folk, soul, blues, Americana, R&B, and world" billing of Matthew O'Neill would either showcase a green artist not yet fully aware of his calling or just someone with too ambitious and wide-spread a set of goals. To believe so, however, would be a mistake.
Released under the delectably progressive Underwater Panther label, whose mission is to "to protect and honor the Earth through music and activism," Trophic Cascade expertly melds the psychedelia of 70s Appalachian rock with the gritty and earthen roots of more recent times. The record emits a vibe similar to that of a timeless trip out to a cabin in the woods, reminding this writer in particular of his days just outside of Tucson in Summerhaven atop Mt. Lemmon. It's a homegrown, homespun piece of psych-folk that's most definitely worthy of an ear.
As stated by O'Neill's description for the album on SoundCloud, "50% of all profits will be donated to frontline earth protection groups, with a focus on indigenous rights and conservation."
Trophic Cascade will be released on May 5, 2017. For more information, please visit O'Neill's Bandcamp page and the official Underwater Panther Coalition website.
[soundcloud url="https://api.soundcloud.com/playlists/304338852?secret_token=s-03B6g" params="auto_play=false&hide_related=false&show_comments=true&show_user=true&show_reposts=false&visual=true" width="100%" height="450″ iframe="true" /]