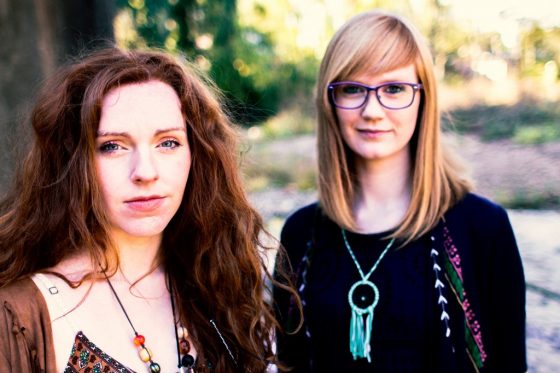 Site favourites Worry Dolls, aka Zoe Nicol and Rosie Jones, are gearing up for the release of their Nashville recorded debut album Go Get Gone on the 27th January. To get you in the mood Zoe & Rosie put together this playlist of influences.
You can preoder the album and catch them on tour around the UK. Also, keep an eye out for a session coming later in the month.
---
The Stable Song – Gregory Alan Isakov
We love the acoustic and raw-ness to this recording. It was so important for us to protect our sound and to never lose the simplicity of what we have just the two of us with vocals, harmonies, banjo and guitar. This song reflects that simplicity and shows how really great songs stand alone. We had an amazing opportunity to work with some of the best musicians out in the States, it would have been so easy to over complicate it and come back with a record that didn't represent us, but this song reminded us to stay true to our sound as a duo.
Don't Let Me Die in Florida – Patty Griffin
We love this track because it's ragged and rough around the edges. Patty's vocals are very real, unpolished and feisty and we wanted to channel that. We went to see Patty at The Ryman Auditorium whilst we were in the studio and we found her so incredibly inspiring – she even brought out Emmylou Harris onstage with her!
Come Pick Me Up – Ryan Adams
We've chosen Come Pick Me Up but it really could be any song from Ryan Adams' Heartbreaker. There's something in the simplicity of this career-defining record that resonates with pretty much every songwriter we know. His voice is powerful but also intimately fragile. No one, with the exception of perhaps only Bob Dylan, can make a harmonica cry like Ryan can.
King of the World – First Aid Kit
We love First Aid Kit, and not just because they're a female duo and we've got to stick together! We love their harmonies and their authenticity. This is a country tune of theirs and it's just really fun – it's one of those songs that always pulls you out of a bad mood.
Fuel the Fire – Sarah Jarosz
We're big fans of Sarah Jarosz and her banjo playing in particular. This is one of our favourites and it's just everything we love about bluegrass. How the banjo and fiddle weave together, alongside Chris Thile (Nickel Creek, Punch Brothers) playing subtle but beautiful mandolin. We could listen to it all day.
Railroads – Holly Williams
Railroads is such a great opening track, bursting with energy and drive. You can bet we had this song on full blast whilst driving on tour down every country road and motorway. We ended up living in Nashville by some railroad tracks and having to drive across them every day to go downtown (which sparked the inspiration for our song Train's Leaving) so this song became quite sentimental. We love the hopefulness and upbeat sound of this track and wanted our album to have a similar vibe. It was the perfect reference for the pedal steel, a bright and dancing melody to weave in and out of the chorus.
Sadness Don't Own Me – The Staves
The Staves are good friends of ours and we have always both been big fans of their music and enjoyed watching their journey. We used Sadness Don't Own Me as one of the references for our track "She Don't Live Here" because we wanted to capture how real and unpolished the piano sounds on their recording. We love the creaks, the guitar squeaks, the imperfections in songs like this because it makes them feel so real.