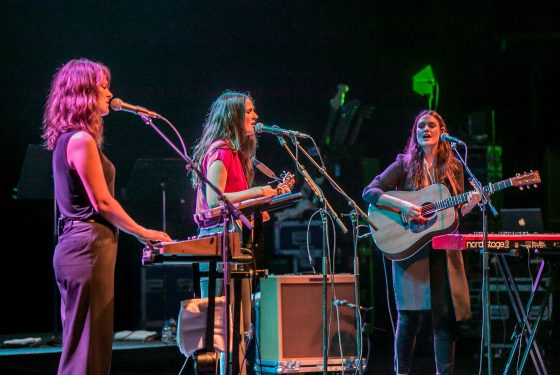 Emily Staveley-Taylor, like all the best people (this writer included), went to university in Manchester. And while she was there she worked in a bar just down the road from her student house in Whalley Range. It might have been called Big Hands. And it might have been owned by members of the alt-rock band Elbow. Whenever lead singer Guy Garvey came in, she would slip on a home-made recording of her and her sisters singing Neil Young songs in the kitchen, in the hope that he might ask her whether she owned one of the three beautiful voices he was listening to. And she would say yes. And they would become famous.
But he never asked until 10 years later, when he was given the opportunity to curate the annual Meltdown festival, and he put the three Staveley-Taylor sisters — The Staves — on stage at the Royal Festival Hall. By now, of course, they already have fame. You can't keep talent like that quiet. I mean, not fame enough that you could ask a random bloke on the street whether he's heard of The Staves, and he would reply "Oh yeah, Emily, Jessica and Camilla?! I had a right crush on Jess when she was in Grange Hill", but they're known in the right circles. Well known enough to support Bon Iver, the Civil Wars and Florence Welch. Well known enough to appear on Jools Holland. And of course well known enough to rank alongside the other Meltdown headliners, like Laura Marling and Richard Hawley.
The three sisters rapidly stride onto the stage like classical musicians. Practised and confident. They pick up their instruments and they're ready to play, no awkward tuning or searching for a capo, squinting into the lights to see if anybody has decided to show up or pay them attention. For the record, a lot of people have shown up. And it seems as if the occupants of each one of the 2,500 seats in the hall is paying them attention. Unperturbed, Camilla taps on the loop pedal and breaks into 'Outlaw', a new song which also kicks off their most recent EP.
The Staves are well known for their perfect harmonies, well honed through many road trips, singing along on the back seat of the family car. What becomes evident during the course of the evening is that there is a lot more to them than harmonies. 'Steady' shows off their ability to layer sounds and vocals on top of one another. Fast favourite 'Black & White' shows off their electric sound, with guitars and keyboards (almost as many keyboards as their beloved Toto). 'Roses' (another song from the new EP) shows that they're just as happy playing the ukelele. Jessica leads the vocals on the stripped back 'Mexico', with a voice that veers towards that of Laura Marling, but warmer, more friendly. These women really are versatile. And the crowd recognise their talents, clapping for longer and longer after each song. 'Mexico' is greeted with applause longer than I've heard at the end of many gigs; the audience is really enjoying the experience.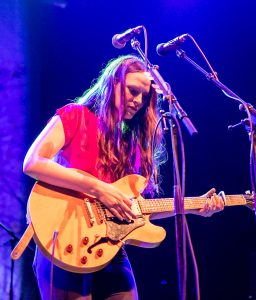 Five men join the three ladies on stage. Three brass players and a couple of violinists. Their sound gently swells into 'Facing West', a beautiful and emotive story of love and doubt from The Staves' first release, six years ago. 'Damn It All' is a wonderfully complete song: a slowly growing susurrus with a repeating echo on the loop pedal that transitions into a fabulous bass-driven crescendo, with the merest hint of headbanging. This leads into my favourite song of the evening, 'Horizons', which starts with some very Sufjan-esque hand claps and melody. The accompanying brass is cacophonous. Another old song, 'Teeth White', shows The Staves' country music side, with some great low-fi guitar and tambourine. Song number 10 of the set, 'Tired As Fuck', ironically feels as fresh as the first, and is another track with a heavy bassline, this time funky and distorted. Ideal soundtrack for a gritty road movie, driving through the dusty desert under a beating sun.
After apologising for swearing in front of the Queen (whom they have added to the guest list, and of course must be in attendance… how could she miss it?), the sisters give a little insight of what it's like to be part of the Staveley-Taylor clan. Currently on tour in the States, they've come up with a little game amongst themselves, based on puns. I won't go into the details, but it's clear that these sisters are family far and above being bandmates. They make it wholly enviable. Which is a pun on the title of the next song, 'Make It Holy', that boasts a compelling military drum beat and beautifully cascading vocals. Those vocals continue unaccompanied into the subsequent track (possibly called 'Tell Me How It Ends'), again showing off those perfect harmonies, where each voice is individually identifiable.
There's a change on stage now, as Jessica walks over to a grand piano for a couple of songs: 'Sadness Don't Own Me' and 'Sleeping In A Car'. The first is a delicate ballad which she sings with a voice Sara Bareilles would be proud of. Accompanied by brass and strings it sounds amazing. The second, the title track of the new EP, descends into a chaotic jazz-like thing, again reinforcing the hugely varied sound of The Staves. They're feeling the atmosphere themselves now, as Jessica lets us know "This is pretty fucking special, isn't it?" before launching into 'No Me, No You, No More', their penultimate song.
If you're as old as me, you might remember the band Wilson Phillips, from the early 90s. As if they didn't have enough strings to their bow, The Staves finish their set with a curveball, a really retro, Wilson Phillips-like rendition of 'Let Me Down'. Using their loop pedal to great effect again, they lay down a siren-like a capella descant which is mind-blowing. They really have presented the ultimately-crafted concert, showing off their amazing range of talents and musical styles. And in front of a huge audience which is immediately up on its feet as soon as the last note fades. And they stay standing that way until the sisters come back to the stage for the ever-present 'Blood I Bled', a song which epitomises the folky roots from whence they came.
Words: Paul Woods
Pictures: Victor Frankowski