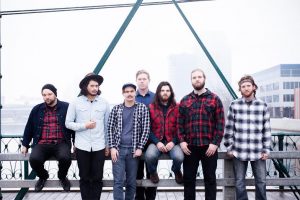 FFS is delighted to bring you the premiere to Watching for Foxes' new single 'Undone Bird'.
With an album of the same name releasing just around the corner on June 10, the Grand Rapids-based quintet's frontman, Joey Frendo, has this to say about the titular single:
"Undone Bird was inspired by two things: our strange journey as a band and the novel 'On The Road' by Jack Kerouac. The song title itself is actually pilfered from a line in the novel, one where Sal is romanticizing the kind of cosmic beauty Dean's brokenness exudes. The latter has to do with the little family we have formed in Watching for Foxes.

We spend an exorbitant amount of time with each other, and through all those hours in our little rehearsal space or in our smelly van or playing gigs, we've forged a brotherhood. All of us have taken very different routes to get where we are now, but we've all ended up together. A lot of people have been supportive, some have not, but we've found a place to call our own through our music. No matter what we've been through, no matter what cards we've been dealt, we found something to be passionate about, something that is bigger than ourselves; a place to call home.

One moment in particular that sticks out as a touchstone to this bond was actually when we started writing the song. We were headlining a festival in Northern Michigan and having a ball when our van's front suspension went out, leaving us stranded with very few options. In the searing heat on a Sunday, feverishly calling mechanics to no avail, we sat down and found comfort in playing our music together. We figured out how to fix the van, and then we started in on writing 'Undone Bird'.

It's a surreal moment to think about now, being hungover and hot but finding a way to write this song about how much we love playing music together and how we don't want it to stop. That experience perfectly encapsulates the song though. No matter how broken down you are, or what is happening, everyone has a sanctuary, whatever it may be, and if you don't, the song challenges you to find it.

Going back to Kerouac's place in the song, that line just struck me as a microcosm of life. We live in this beautifully broken world, and if you look at it in the right light, there's a kind of solace in that; a kind of solace that is present in the novel as well. The book itself was highly influential not only in the writing of the song and the album, but in my life, so it also feels a little bit like an ode to the road and to the people who inspire us to keep living this crazy dream and to never stop being a little unhinged as long as it is all in the pursuit of something beautiful and true and inspiring.
For more information on the band, including their upcoming album, visit their official Bandcamp page.