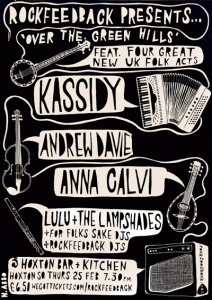 Our pals over at Rockfeedback have been putting on great folky shows for a while now. The souvenir keyrings FFS has attached to our belongings (Peggy Sue + Local Natives + Curly Hair and First Aid Kit + Blue Roses + Kill it Kid) prove as much, but now they've launched a new thoroughly folk night called 'Over the Green Hills' just to make sure there's no question at all.
The first OtGH show will be on 25th February at London's Hoxton Bar and Kitchen and will feature Kassidy, Andrew Davie (formerly of Cherbourg – read our live review of his first solo show), Anna Calvi and Allotment veterans Lulu and the Lampshades. And Helen and I will be spinning a few tunes as For Folk's Sake DJs, which is jolly exciting for us, if not for everyone else.
Tickets are available from We Got Tickets (which – in our humble opinion – is the least scammy of the ticket sites. Just sayin').
Come along and say hello. Gowan.
Words: Lynn Roberts