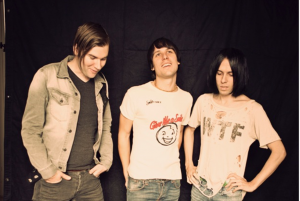 The Cribs are back with the announcement this week of their new album For All My Sisters for release on 23rd March 2015.  It's the band's sixth studio album and follows 2013's career spanning 'Payola' collection and 2012's Top 10 album In The Belly Of The Brazen Bull and the first for new label Sonic Blew / Sony Red.
Having reconvened over the last year in Wakefield and Portland, the band later decamped to New York and Magic Shop studio with legendary producer and The Cars frontman Ric Ocasek (Weezer) to begin recording.
A new label, a new perspective, a new challenge  – For All My Sisters marks the start of the next chapter, in a decade long existence that has seen the band continually evolve, ever advancing whilst stockpiling an enviable arsenal of songs.
For All My Sisters will be available on double 12" vinyl, CD, deluxe CD/DVD – featuring live footage from the band's two Christmas 2013 shows at Leeds' old Town & Country Club – and digitally through Sonic Blew / Sony Red. The first single, 'Burning For No One', released simultaneously on 23rd March, will be available on limited 7" and digitally through all discerning musical outlets, whilst 'An Ivory Hand' is available now with digital album pre-orders.
You can listen to a brand new track, 'An Ivory Hand' below :
For All My Sisters Track Listing
1. Finally Free
2. Different Angle
3. Burning For No One
4. Mr. Wrong
5. An Ivory hand
6. Simple Story
7. City Storms
8. Pacific Time
9. Summer Of Chances
10. Diamond Girl
11. Spring On Broadway
12. Pink Snow
Having sold-outtheir entire UK tour in minutes, The Cribs will give fans a chance to hear the new songs first in February at these intimate shows…
11th  NOTTINGHAM: Rescue Rooms
12th  LONDON: Electric Ballroom – NME Awards show
14th  PORTSMOUTH: Wedgewood Rooms
15th  BRISTOL: The Fleece
17th  BIRMINGHAM: Oobleck
20th  GLASGOW: King Tuts
22nd  SHEFFIELD: Leadmill
25th  MANCHESTER: HMV Ritz