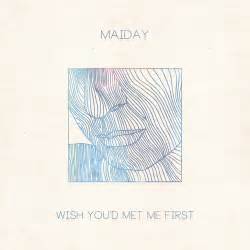 Here's something to really warm those winter cockles – new music from Worcestershire born Maiday as the singer-songwriter releases new track 'Wish You'd Met Me First'.
Maiday, real name Rachel Moulden, has written for the likes of Wretch 32 and has previously  featured on top 40 UK hit 'Fade' by Jakwob and Naughty Boy's 'One Way'.
Building on a successful 2013, she's now ready for lift off in her own right and this is a tremendous starting point.  Produced by Jimmy Hogarth (Amy Winehouse, Duffy, Paolo Nutini) and new beatsmith ARRWS, 'Wish You'd Met Me First' echoes the haunts from a previous relationship.
Maiday is set to make her mark this side of 2015. With her honey-toned vocals offered on a sharp knife of wit, her subtly executed sentiments are that of a woman in her 20's navigating love's highs and lows;
"I write songs about things I see, things I feel, and things I care about," she says, "I don't come from a 'scene'; I'm just trying to write really great songs."
Maiday is now building momentum towards the unveiling of her long-awaited debut EP scheduled for release in Spring 2015. You can check out 'Wish You'd Met Me First' below.