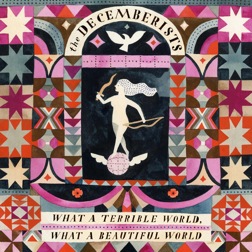 Today is double auspicious, it turns out. There's a new Decemberists album on the way and you can listen to the first song 'Make You Better' right now.
The band's seventh album, What a Terrible World, What a Beautiful World, will be released on on January 19, 2015 on Rough Trade Records.
The Decemberists have been on a wee break for the three years since their mainstream breakthrough record The King Is Dead and being on the Simpsons.
Frontman Colin Meloy said: "Typically we book four or five weeks in the studio and bang out the whole record. This time, we started by just booking three days, and didn't know what we would record. There was no direction or focus; we wanted to just see what would come out. We recorded 'Lake Song' on the first day, live, and then two more songs in those three days. And the spirit of that session informed everything that came after.
"Having a family, having kids, having this career, getting older – all of these things have made me look more inward."
Track Listing: What A Terrible World, What A Beautiful World
1. The Singer Addresses His Audience
2. Cavalry Captain
3. Philomena
4. Make You Better
5. Lake Song
6. Till The Water Is All Long Gone
7. The Wrong Year
8. Carolina Low
9. Better Not Wake The Baby
10. Anti-Summersong
11. Easy Come, Easy Go
12. Mistral
13. 12/17/12
14. A Beginning Song
UK Tour: Feb 2015
11 – Vicar Street, Dublin
13 – O2 Academy Glasgow
14 – O2 Academy Leeds
16 – O2 Academy Bristol
17 – Manchester Academy
18 – The Institute
20 – Brighton Dome Concert Hall
21 – O2 Academy Brixton