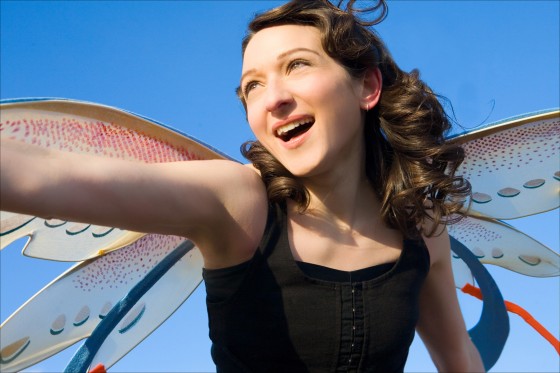 My Brightest Diamond, the alter-ego and project of multi-instrumentalist Shara Worden, is about to be catapulted into new dimensions with a host of new material ready for the coming months in the lead up fourth LP release This Is My Hand on September 15th. A companion EP, None More Than You, is planned for release on July 15th to whet the appetite for what's to come.
A stunning example of the interweaving styles produced is Pressure, which is available as an instant download with any pre orders of the limited 1000, translucent red vinyl edition of This Is My Hand. You're introduced to the song by a marching band, a technique and sound that Worden clearly holds dear to her heart.
"In the States, the marching band is done in school and represents something inclusive, that anyone can learn", she explains. "I love the communal quality and the way drums and horns travel in large, three-dimensional spaces. I looked at changes in music over my career, and trying to re-evaluate what it meant to me in the first place: 'what is the value of music?' is essentially what I was thinking about."
As soon as bolder drumming kicks in, you're drawn into a world where anything goes – as soon as you think you're getting into a pattern of where the song is going the direction changes and it fits perfectly as a backdrop to the rich vocals that we've come to expect from Worden. The beauty of the song and the sound is that it's not something you can label or place in particular genre group with influences from Worden's evolution as a composer mixing with a vocal style that draws comparisons to St. Vincent.
Pressure is just the beginning with the new material the most accessible collection of songs to date from the classically trained artist. You can buy This Is My Hand direct from label Asthmatic Kitty here. To pre-order the album in the UK with immediate download of Pressure click here.

Words: Danny Brothers