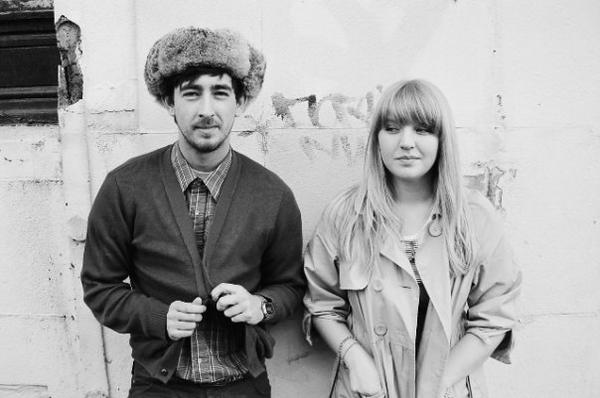 With a  notorious reputation for annually hosting a Christmas tour in various spots across the country, Slow Club yet again graced us with an even more profound festive set than ever before. Winning over hoards of followers after the release of their debut album 'Yeah So', the duo Charles and Rebecca set their mark with their charming indie pop sound. The release of a second album, 'Paradise', not only enhanced this growing reputation but set them somewhat apart from what could have been both a predictable sound and route. Slow Club, now supported by a 5-piece band, are days away from the release of a third and no-doubt brilliant album, so their headline slot at Shepherd's Bush this year is really no surprise following the 2012 and 2011's Christmas gig hosted at Union Chapel.
The set opened with a gloriously ominous rendition of 'Two Cousins', where Charles and Rebecca layer ghostly vocals on top of each other, peppered with just one acoustic guitar. The entire set was a steady balance of old material/ obvious crowd-pleasers and new material, and this was no deterrent to say the least. With everything from trumpets to a saxophone, there are some tracks which genuinely sound like swing jazz. However, it is the solidity of Charles and especially Rebecca's vocals that make this so enrapturing. With exception, their newest sound allows her to really perform and hone-in on the phenomanal voice she has.
This year, the band centred their Christmas theme towards the latter half of the set, and performed 'Christmas TV' completely unamplified. The whole audience rose to the occasion, literally, and their following was remarkably apparent as the whole room sang along, word for word. It was actually really quite amazing, and for a band to achieve such an atmosphere is really something quite special.
I can only predict that while these guys have been out on the scene for a little while now, they definitely have a long future ahead of them. The shift in tone is a promising one indeed, so keep and eye out for more news on the third record. Our one regret is that these lovely intimate Christmas gigs might not be so intimate in the years to come.