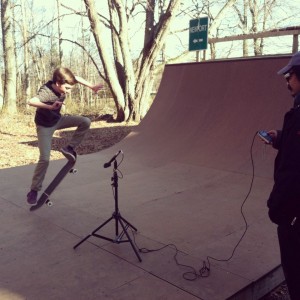 The Low Anthem have emerged from their hiatus to announce a new record, upcoming shows and a line-up change.
The Rhode Island folksters announced back in September 2011 they were to take a break and have been away from the limelight for a year since their subsequent tour.
In a lengthy message to fans sent by email today, the Oh My God, Charlie Darwin artists revealed they were working on new material – or as they put it "a surrealist folk-noir schemescape fairytale of kidnapping and housefire".
They wrote: "A new work is underway! We are recording a surrealist folk-noir schemescape fairytale of kidnapping and housefire, mothered by moths, curling from apothecary bottles of cut diamond to emerge: a museic installation mixing poetry, narrative, and psychedelic light.
"We've been taking sound-gathering trips to zoos, beaches, skateparks. We've been out to California with our butterfly nets. We've been shading ourselves to sleep under a starshine of semitones and scouring every tonal corner of the great theatre. All to gather its rich ingredients. We don't know yet how it's coming out, this bouncing body of a recording. But, as we reach summer solstice, we've been planning our sacrifices to the gods, prepping and scheming. A horde of umpaloompas waits eagerly in the boiler basement."
The new music will hit be completed without Jocie Adams, with the singer and multi-instrumentalist having gone solo.
"We bid farewell to our friend, and musical cohort Jocie Adams, who has started a new solo project called Arc Iris which is awesome. Check it out! She has made beautiful new recordings with lots of friends and love. Our warmest wishes go toward her muse and where it leads her."
The band also gave further details about how they had spent the last year, renovating a theatre in Rhode Island.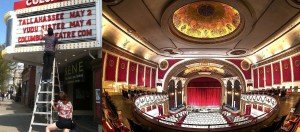 "As you may know, we have spent the last year residing in the Columbus Theatre, a derelict operahouse, turned pornhouse, turned achingly beautiful crumbling, forgotten mess on Providence's west end," they wrote. "It started out as a haunted playground of a place to set up our recording equipment for a new body of work (more on that in a minute!), and soon became that and more.
"With the help of our friends Bryan Minto, Tom Weyman and Lauren Faria we formed the Columbus Co-op and began the irresistible task of re-opening this dinosaur landmark. A year later, thanks to the outpouring of community spirit and hard work of many volunteers this idea has become a surreality. The theatre meets is on its feet again bringing loads of shows and films to Providence."
Finally, they gave details of three upcoming shows in Brooklyn and Rhode Island, which can be found here.
Phew. Welcome back, Low Anthem!