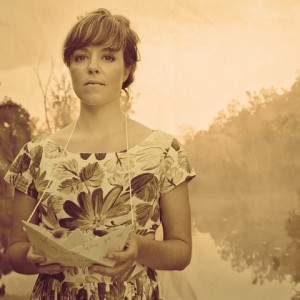 Emily Barker & The Red Clay Halo have announced their biggest ever UK tour for later this year.
Australian Barker and her band will showcase material from their new album Dear River, set for release on July 8, with a 28-stop tour in the autumn.
Beginning in Aberdeen on October 10 and concluding on November 22 in Bristol, the tour also takes in a date at London's famous Shepherd's Bush Empire, with support from Brighton-based singer-songwriter Chris T-T.
"I'm really excited about the 'Dear River' tour," said Barker. "Having supported The Waifs back in 2008 at Shepherd's Bush Empire, it certainly is a milestone 4 years later, for us to be headlining this London venue."
Produced by Calum Malcolm, Dear River will be the band's fourth studio album, and you can check out the title track – a former FFS Song Of The Day – below.
A full tour itinerary is listed below. For more details on the tour of the album, check out the band's website.
10th October – The Lemon Tree, Aberdeen
11th October – The Arch Inn, Ullapool
12th October – Ironworks, Inverness
13th October – Oran Mor, Glasgow
15th October – Komedia, Brighton
16th October – Shepherds Bush Empire, London
17th October – Blackfriars Priory, Gloucester
18th October – The Globe, Cardiff
20th October – The Musician, Leicester
21st October – Artrix, Bromsgrove
22nd October – St John's Church, Oxford
23rd October – The Apex, Bury St Edmunds
25th October – Open, Norwich
26th October – Folk Festival, North Dorset
7th November – St Philips Church, Salford
8th November – Brewery Arts Centre, Kendal
9th November – Cluny 2, Newcastle
10th November – Brudenell Social Club, Leeds
11th November – Junction 2, Cambridge
13th November – Discovery Centre, Winchester
14th November – Phoenix, Exeter
15th November – Plaza Suite, Sevenoaks
16th November – St Mary-in-the-Castle, Hastings
17th November – Wedgewood Rooms, Portsmouth
19th November – Glee Club, Birmingham
20th November – Greystones, Sheffield
21st November – Floral Pavilion, New Brighton
22nd November – Folk House, Bristol