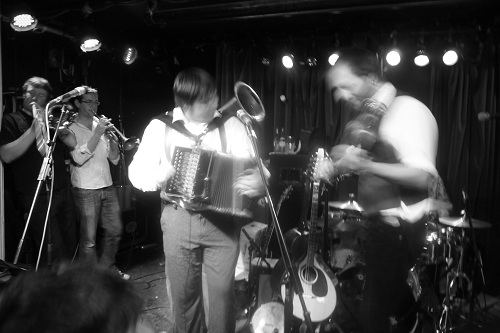 BBC Radio 2 Folk Award winners Bellowhead have announced an extensive UK tour later this year.
The 11-piece folk supergroup, who won best album for their release Broadside last month, begin their tour in Bury St Edmonds on November 7, hitting 17 venues in England and Wales.
Bellowhead have also released a new video for their single 'Roll The Woodpile Down'.
The track has already got plenty of airplay on Radio 2, and arranger Jo Boden says: "This is a song I've known for ages – I think I first heard it sung in the pub in Durham where I used to hang out.
"It's often just a little thing that's gives you a door into an arrangement – with Woodpile it was adding an extra beat to the 'Georgia Line' so that you can get more vocal impact out of it. From there it was just a case of finding a second melody line to set against the song tune (this ended up being a simple oboe riff) and then putting it all together with the band. It's been working really well live, particular since all the airplay on Radio 2 – people really know the chorus now!"
Check out the video below.
November 2013
Thu 7, BURY ST EDMUNDS The Apex
Fri 8, WARRINGTON Parr Hall
Sat 9, CHELTENHAM Town Hall
Sun 10, BLACKBURN King George's Hall
Mon 11, AYLESBURY Waterside Theatre
Tue 12, BIRMINGHAM Symphony Hall
Wed 13, GUILDFORD G Live
Thu 14, BEDFORD Corn Exchange
Fri 15, WREXHAM William Aston Hall
Sat 16, PORTSMOUTH Guildhall
Sun 17, EXETER Great Hall
Mon 18, TRURO Hall for Cornwall
Tue 19, FROME Cheese & Grain
Wed 20, LEICESTER De Montfort Hall
Thu 21, ABERYSTWYTH Arts Centre
Fri 22, CHESTERFIELD Winding Wheel
Sat 23, FOLKESTONE Leas Cliff Hall