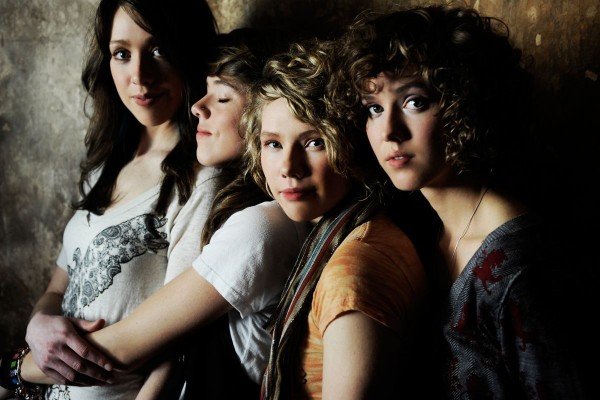 From up on high in Fort Collins, Colorado come SHEL, four sisters who have taken their classical training on piano, violin, harp and mandolin and put it to use to create their own brand of folk-pop. Almost a decade of honing their craft and working through ideas on a series of EPs, Sarah, Hannah, Eva and Liza have finally unleashed their debut eponymous album. To introduce us to the ideas contained within, here is a track-by-track guide from the mandolin-wielding Eva Holbrook.
Paint My Life
I don't think it's love that makes us blind. I imagine that blindness has more to do with the desire to be loved than the desire to love. You can become so attached to a person who doesn't really know you, blinded by your own selfishness towards them, that you're unable to recognize how unhappy you make one another. Once you do realize however, all that remains is the challenge of breaking the paper chain around your ankle and learning to love honestly or say goodbye.
Like Minded Fool
Expectations cause more confusion and misery then they're worth. They always seem to sneak into the mind without being recognized at first. It's not until I gain some new perspective on some haunting unhappiness I'm experiencing that they're revealed in their honest and unreasonable form. This work was written while working through the disappointment that resulted from some of the most confusing expectations I've ever experienced.
Freckles
Speaking of expectations, they are the very mothers of unrequited love as I see it. However, this work is about a time in life long before we're really capable of understanding about expectations. It's the story of a small farmer's daughter whose first crush happens to be on the handsome, brotherly, 20 something working on her father's farm. I imagine her a little tomboyish and mischievous, young enough to be appalled by the thought of people kissing, but old enough to start worrying unnecessarily about her freckles and the color of her hair. She's subject to bitter disappointment, but there's so much wonder in life it doesn't get her down for long.
The Man Who Was The Circus
Real leaders are as rare as gold. They lead with their actions rather than by insisting with their words, or holding their knowledge over our heads like a heavy axe. Their influence is not based on their looks or their novel ideas and slogans. They are busy searching for the truth. They work hard every day pioneering. They don't expect to be acknowledged and few of them ever are. This song is a tribute to the everyday honest leaders making a difference around the world. To help express the beautiful and exciting life that lead up to the story told in this work, we decided to start the track with a section from a movement that Hannah composed.
Lost at Sea
Nothing is more uncertain to me than the idea of true love. You could miss it if your heart is proud. If you do find it you could lose it in the blink of an eye. I think you find it when you're not looking for it, and if you do find it, you can't tame it or keep it as you like. You have to rejoice in the wildness of it or it will die for want of freedom and passion.
The Wise Old Owl
I've been wondering about love a lot lately. Is there really just one person out there for each of us? If that's the case, than the answer to the majority of my questions about love may very well be a question in and of itself. Who?
Vinyl Memories
This work was the result of a long walk and the sudden recognition of my introspective bargaining habits. Maybe you know exactly what I mean. When what you said and what you could've said spin around in your mind without any resolve. When you try to justify what you did even as you realize what you could've done better. If I allow myself to look honestly at my choices I usually find complacency at the root of my problems.
The Battle of Evermore (Led Zeppelin cover)
All of us grew up reading J.R.R Tolkien's 'The Lord Of The Rings' and listening to Led Zeppelin. We discovered this song and loved the sound and the subject matter so much that we decided to make it our first cover. We'd been listening to a lot of very tribal sounding Scandinavian music at the time, so we approached our arrangement with a similar feel.
Stained
Liza and I wrote this after watching a rather disturbing R rated movie about coal mining and listening to Razing Sands. It was our first one-on-one collaboration, and a good tune to try some banjolin and octave mandolin on. Sarah thrilled us all with her energetic fiddle work making it one of our favorites to perform live and the first song where we all get to sing together.
On My Way
Hannah and I wanted to write a song about traveling and working together to commemorate this amazing experience we know as our everyday life. We're all Colorado natives who enjoy being on the road and meeting new people, still when we head home, there's nothing like watching the mountains come into view.
Tuscany
It's been a long time dream of ours to visit Tuscany. I wrote this work in our wine cellar while imagining an epic adventure on horseback at night, across fields bordered by cypress trees, through forests with gypsies, all the way to the ocean shore.
When The Dragon Came Down
Complacent complaints are like the sound of a snoring king, a sound that a dragon can hear from miles away, an invitation to destroy a kingdom, or perhaps a nation in our case.
The Latest And Greatest Blueberry Rubber Band
All the happy songs are collaboration between the four of us. Sarah and I started this work in the backyard, continued it in the front seat of the car while grocery shopping, and wrapped it up outside a sandwich shop, after giving it an operatic solo and a little polish outside of a coffee shop, where we drove away several college students who were trying to study. Most of the lyrics were inspired by summers spent in our hometown with the addition of a few cherished rhymes we wrote when we were children.