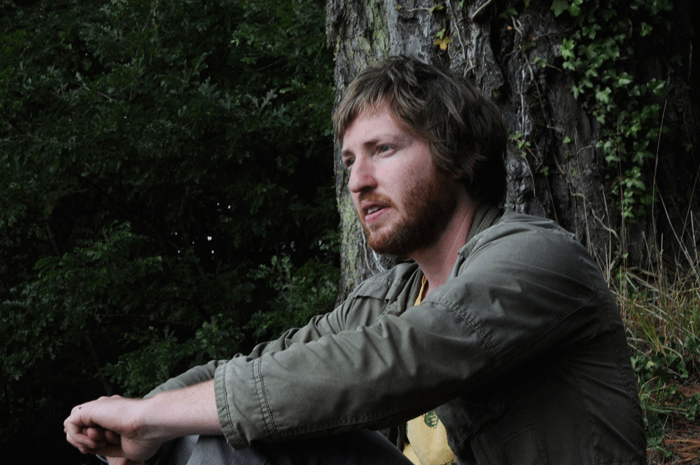 After the release of two indie-folk albums, Tales of Grim and Grit through Atlantic Records and Both Sides of the Coin through his own independent record label Pip Productions, Cornish singer-songwriter Ruarri Joseph disappeared from the music circuit. Before heading on stage at the Exeter Phoenix, Tor McIntosh caught up with him to chat about the reason for his music hiatus, his fresh start in 2010, and the state of his garden shed.
2009 was a turbulent year for you, can you briefly describe what happened?
Well, in the middle of promoting my second album [Both Sides of the Coin] my eldest child, Alfie, was rushed to hospital for an emergency brain operation. Coupled with that my wife was about to give birth to our third child. At the time I was on a small promo tour prior to a headline tour, but when everything happened I cancelled all my plans and spent most of 2009 being a dad and a husband and not playing any music at all.
Did you completely walk away from writing during that difficult time?
Yeah, pretty much. It was a conscious decision to cancel the tour and only do gigs that were local, but I didn't consciously stop writing. I don't set aside time to write, but when things started to clear up in my personal life I did notice that I hadn't written for ages. Then suddenly all these songs came out of nowhere.
Your experiences in 2009 have obviously shaped your latest album and it's been quoted by a critic that Shoulder To The Wheel is "a collection of songs shaped by hope, albeit born from turmoil." Is this a fair description?
Yes, definitely. My second album was a very personal album and chronicled some bad things and some good things. However, I noticed that whenever I sang those songs they took me back to those times and places and I'm reminded of why I wrote the lyrics. The only goal I had in mind when I was writing Shoulder To The Wheel was I didn't want that to happen. Instead, I wanted to find the light at the end of every single tunnel I'd been down and rather than write about the tunnel itself, write about the light at the end. That's why I started the album with the song Nervous Grin, because it's a good metaphor for when times are difficult the best thing you can do is smile.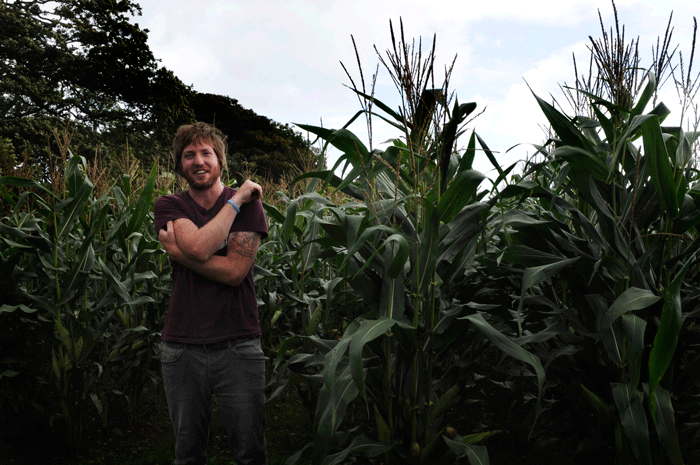 The new album is described as having elements of folk, rock and gospel – the latter isn't immediately obvious, what do you mean?
It's gospel in the sense of the attitude rather than the sound. It's similar to Kurt Cobain's take on punk music: he'd never listened to punk, but he'd heard there was this style of music in London and Nirvana's grunge sound was his interpretation of what he thought punk music might sound like. I don't know anything about gospel music other than what I saw in the Blues Brothers film, so the gospel element is more about writing and recording songs that give you hope and faith, on a completely non-religious level.
The album cover for Shoulder To The Wheel, with the black and white photo of a young child playing on a beach, has a very nostalgic feel to it – was this intentional?
Yeah, that's an old photo of my Mum actually. I wanted the cover to be some kind of symbol of innocence and hopefulness, and this idea of starting again. As soon as I saw the photo I knew it would make a great cover for this particular album.
Did you treat the new record as if it were your first after your 12 month hiatus, hence the "starting again" symbolism?
When I returned to music this year Steve Knightley from [the acoustic roots duo] Show Of Hands asked me to go on tour with them, but that was all I had on the horizon with nothing beyond it. I decided to make a live album and sell that on the road and then in February out popped Shoulder To The Wheel, so I decided to sell that on the road too. I ended up selling over 1000 copies on the support tour alone – just me and my guitar and no big promotion at all. It was after that support tour that I realised my head was in the right place and I was ready to give music another go and essentially make a fresh start.
Have you returned with a different sound compared to your previous two albums?
Again, I'm not sure if it was conscious thing. When I returned to my garden shed, which is my recording studio, it had deteriorated a lot and some of the instruments had rusted beyond use. So without planning it I had less instruments to use compared to my first two albums. For the first album [Tales of Grim and Grit] I had Atlantic Records funding a studio so I was like a kid in a sweetshop; for the second album, which I produced on my own label Pip Productions, I recorded most of it in the shed with help from some friends. This album is totally stripped back. Everything was done very rootsy – in fact I recorded it with a microphone that buzzed unless I made an earth connection with my toe – and I'm delighted with the sound I was able to get.
How would you describe your music?
Somebody once described my music as, "old in style, but modern in substance," which I quite like. The label it's usually given is indie folk.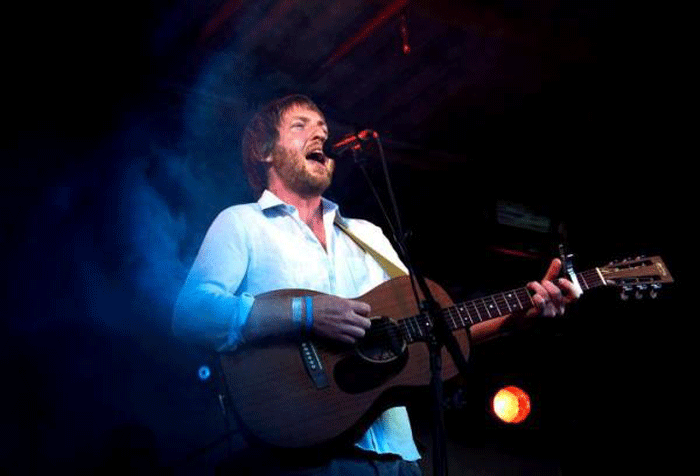 Over the years you've had some incredible comparisons, such as Tom Waits, Bob Dylan and Johnny Cash, but who have been your biggest influences?
The backdrop to my childhood was Bob Dylan, Joni Mitchell and Joan Baez, because that's what my Dad played all the time. When my parents split up and my Mum and I moved to New Zealand I was subjected to my Mum's taste in music, which included artists such as Demis Roussos and Chris De Burgh! But by then I was starting to develop my own taste in music and as it was the 90s, when grunge was really big, I got into that genre during my teens. When I was about 18 I heard a Tom Waits song and loved it, but I didn't know what album it was on or what it was called; I spent the next few years trying to locate the song by going through all his albums and in doing so I fell in love with his music. It was actually after going to see him play in Amsterdam on his Real Gone Tour that I was inspired to start playing and writing seriously. So as an adult I'd definitely say Tom Waits has been my biggest influence.
You've just finished your first headline tour for nearly three years, how's it been?
It's been brilliant, absolutely brilliant. Like I said, with this record I've started from the beginning – people aren't gonna stick around if you disappear for over year, which is pretty much what I did – so I didn't have big expectations for the tour, I just knew I wanted to get out on the road and play; I believed in the record and I believed in the new band I'm playing with.
This is the second album you've made on your own independent record label, Pip Productions, what's it like being your own boss?
I absolutely love the creative freedom you have producing your own album, but after doing the second record all on my own I figured that I'm not naturally business minded at all. I like the idea of trying to find a balance, where I can do the creative bit independently but then get some help promoting it. With Both Sides Of The Coin I did everything and I feel the music got lost because I was so busy concentrating on other things, so for Shoulder To The Wheel I've secured a management deal with ACP Recordings to help with the album promotion and tour.
Finally, is the garden shed still going strong?
Hmmm, I don't know about it "still going strong"! I don't think I could make another record in there, certainly not with the equipment that I've got. Everything is falling apart. But Ryan, my bass player, has a studio space in Cornwall so we're thinking of turning my shed into a mixing room, so it'll still be part of future records!
Interview: Tor McIntosh
Ruarri's third album, Shoulder To The Wheel, is out now.
The single Orchard For An Apple is released on 3rd Jan 2011.