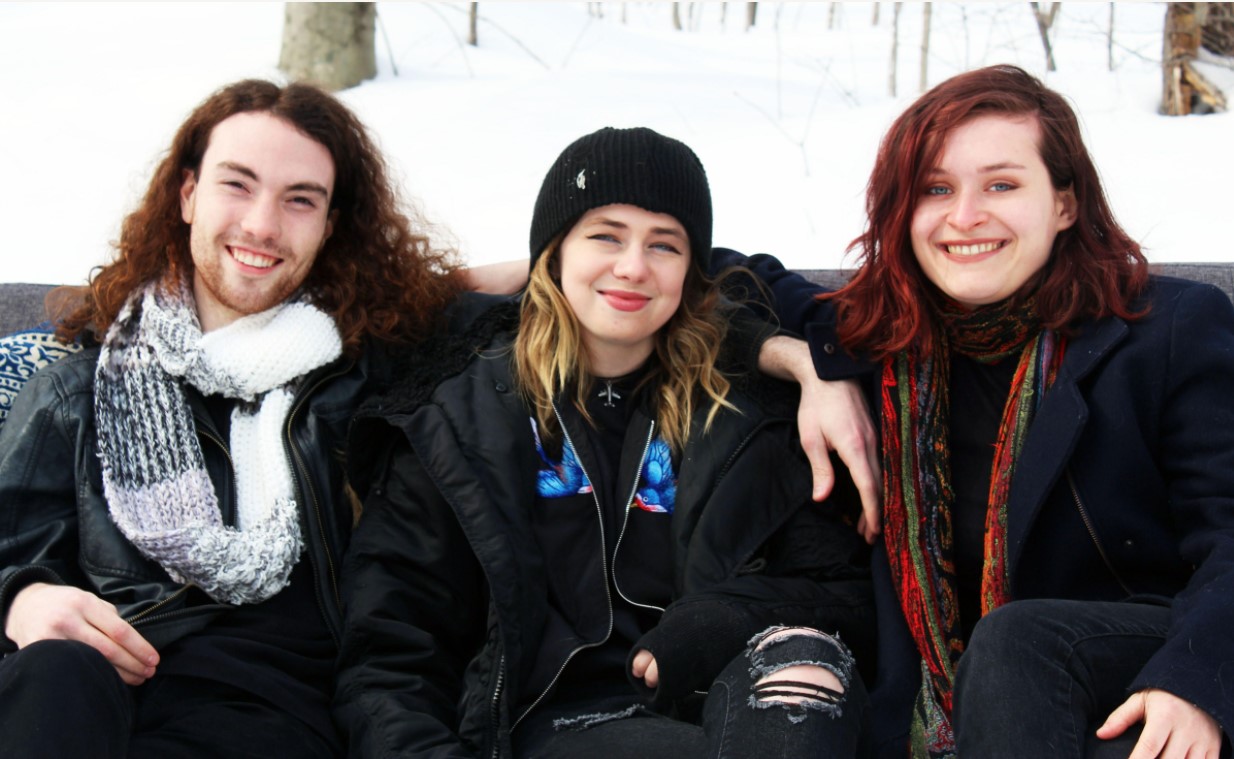 It would be safe to assume that The Accidentals take their Time Out Sessions literally. Compared to the lightning-quick pace of their average tour schedule, these sessions provide a conclave for Sav Buist, Katie Larson, and their noteworthy co-writes to unwind. Shows are an intimate, pared-back affair, replete with warmhearted banter and music worthy of an attentive ear. Their accompanying, titular EPs are the product of collaboration with the likes of Beth Nielsen Chapman, Maia Sharp, and Kim Richey—all of whom the Accs are currently on the road with—and others. The down-to-earth, heartfelt folk and Americana of their latest—TIME OUT 2—is more than enough to captivate a listening room. They cast a reflective, grateful gaze outward with this collection of six tunes, many of which hone-in on the idea of breaking out on a fresh path and writing a story anew.
The ever-moving band is already barreling towards their next couple of releases with the help of a timely Kickstarter, which at the time of publication has just 5 days remaining. All the while, Buist and Larson cut a slice out of their busy schedule to chat with For Folk's Sake on all things Accidentals and TIME OUT 2.
Tour begins! How does it feel to be back on the road? I see that your usual tightly packed van is more tightly packed than ever!
Sav: It's cray! We're absolutely stoked to be out with these women—and yeah, the van is like the magic hat you keep pulling stuff out of. It was like playing Tetris to get it loaded up.

Are Beth, Maia, and Kim fun travel buddies? What do they bring to the road dynamic?
Katie: Oh my goodness. We have laughed so hard this tour. Everyone is so different, and we're ok with that.
Acc's regular band pace is off the wall. Sometimes we have a couple of interviews, radio in-studio, and an Insta takeover on the same day we have a show. We went in knowing we would just adjust as we go and try to keep everyone healthy. We're all on different sleep patterns and these are super long days so that's the biggest challenge. Everyone in the van has a wicked sense of humor and that is what makes it work. There are no egos, no drama, just a really collaborative feel. Jake Viache is our tour manager and he is holding down the logistics and making sure the coffee is on tap. That's the tipping point of a successful tour.
This is your second Time Out Sessions EP. How did the sessions present on this iteration differ from the first's? Were you in a different headspace?
Sav: For sure. We wrote and recorded TIME OUT 1 over zoom and in isolation. We processed all of 2020/2021 in the music, the lyrics. We paused the Vessel album release to put TIME OUT 1 into the world because we felt like it was so timely and necessary.
TIME OUT 2 we had so much more freedom to create collaboratively throughout the whole process. We were able to write in person, have people come into the studio and record parts, get feedback, and really take the project next level. When we wrote TIME OUT 2 we were more comfortable co-writing and we were in a different head space. We were stronger for having recorded and produced two albums together over the last 18 months.
When it came to production, Katie and I really wanted to honor each song. We rarely use piano or steel but we had this opportunity to push outside of Accidentals sound and create a landscape that cradled the music the way we heard it. We went for it.

Working with the likes of Beth Nielsen Chapman, Tom Paxton, and so on — these are renowned artists with decades of songwriting credits. Has it ever felt daunting working with these artists who are regarded as greats? 
Sav: Katie and I are introverts for the most part and we process songwriting differently. Writing with these seasoned writers who have made a name for themselves in this business was humbling and challenging. We were so lucky that our first co-write was with Beth Nielsen Chapman. She is such a pro, she made lunch, we talked about life, found a story we could all relate to and wrote "Circling Around." We left feeling like songwriters. Sometimes you need to DO something to believe you can do something. She gave us the confidence to keep going. We write with Tom every week now. He taught us that it's ok to just write and not expect a hit. Many of these writers have helped us hash out our twenties, they've given us some great life and tour hacks. All those sleepless nights worrying about the next day's co-write—worth it.

Each songwriter you've worked with must have brought something different to the table. What are some of your most memorable moments from these sessions?
Katie: Writing with Dar Williams was like gathering around the radio to listen to …the rest of the story. She told us about a train ride she took while writing her book What I Found In a Million Small Towns and it was impactful listening to her reminisce. She is a natural poet. We wrote like that over several zooms until we put together 'Night Train'.
When we were writing with Maia Sharp, we brought salsa to the write. She was the easiest person to write with. I was struggling with accepting myself and she wasn't having it. She just calls it what it is with a lot of love.
Kim Richey is like a sister. She loves all the things that we love and knowing she has a degree in Agriculture convinced me that I could go back to school and play music.
Writing "Eastern Standard Time" with Peter Mulvey was hilarious, we spent the first thirty minutes talking about Fungi. Eventually, we got around to connecting the dots of our commons – our home states meet in the UP and we both love touring that little piece of heaven, so we wrote about it.
The Time Out Sessions have a more introspective vibe than other recent work, which veers on indie rock. What has been your goal with the Time Out releases?
Sav: It's a literal time out. We needed a minute away from the full band touring and the production and the mad pace we roll at. Michael had a couple projects he wanted to get off the ground and Katie and I were moving to Nashville so it seemed like the perfect time to take a TIME OUT. We pick up a guitar and maybe the violin/cello and we go. It's truly singer-songwriter, lyric-focused Americana, simpler, less produced. We hope it's a chance to destress, relax, breathe.

In what ways do shows on the Time Out Sessions tour differ from a traditional Accidentals performance? And for you, what perfect mixture of elements make for a great tour?
Sav: The full band show is best described as a ball of white-hot energy. The TIME OUT tour is super chill. It's always a group of writers in a row. Usually the writers we co-wrote the album with. It's based on the Bluebird Cafe format – we should really call it Bluebird on the road and get them to sponsor it. :) You're either laughing or crying watching the TIME OUT shows. Either way – bring the tissues.

You have 5 days left to go on your new Kickstarter, which will fund a number of projects. Tell us about it.
Katie: Usually we fund our projects with touring. It's been a tough year for touring. During the quarantine, we put out two albums and six videos and just kept going. Coming up on TIME OUT 2 we realized we weren't gonna be able to stretch any further. So we decided to reach out to our base and pre-sell the TIME OUT album, vinyl, experiences, and shows. Hoping that would help us get back to a place where we could keep putting out music this year without having to depend on the touring totally.
So we launched the Kickstarter. We went really conservative with the goal for three projects because it's been a tough year for everyone. We've been on this journey for a while with a powerful core base and they have had our backs through a lot. We're really looking forward to paying that forward this year. We're working with Kaboom Collectives (youth) Studio Orchestra to record an album of back catalog Accidentals music with a full orchestra. The students are scoring, arranging the parts and we are recording them together. Then we are going to take them on tour this summer. We cannot wait. Thanks for asking!
Words by: Jonathan Frahm