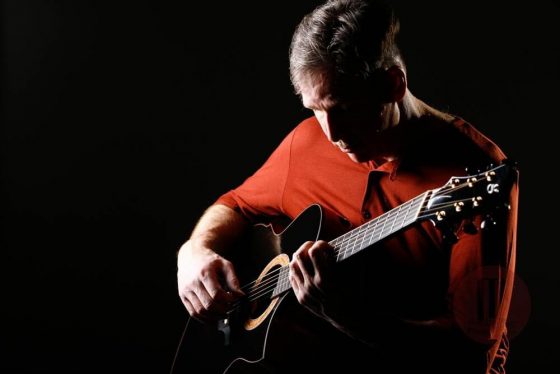 A keen instrumentalist, Mark Vickness' music lives in the in-between. Between words, the artist composes vivid, emotional expressions alongside his ensemble, Interconnected. Fittingly sharing a name with his collective, Vickness' 2020 album, Interconnected, features four original pieces alongside four solo, modern fingerstyle compositions. Throughout, the major idea that Vickness and company hope to exhibit is a feeling of connectivity between humanity and all things.
Vickness is the latest to take part in our ongoing 'FFS 5' interview series. Throughout, we are given a window into the composer's world, from his musical upbringing from age six to an ardent passion for backpacking.
Please tell us a bit about yourself. Where are you from and how did you get started in music? Any defining moments along the path to present day?
I'm originally from New York but I've lived in California since 1978. I got started in music by virtue of my mother mandating I start piano lessons when I was six years old. I started on guitar and bass when I was about twelve, got going on theory and composition around age sixteen and then majored in composition in college and graduate school. I was very fortunate to study under Mel Powell at the California Institute of the Arts. In addition to having won a Pulitzer Prize in composition, he was a brilliant teacher. There have been a number of defining moments along the way. Most of them have involved attending concerts that had me close to levitating. Maybe the most notable of those was being present for the final San Francisco performance by Michael Hedges just a few months before he died. That show completely changed my musical direction and led me down the road to focusing on steel string acoustic instruments, alternate tunings, percussive playing – the whole range of what is now known as modern fingerstyle playing.
As an artist, how do you define success?
I learned some years ago that the process of working on my skills as a composer/musician is the goal – that the path is the destination. Success for me as an artist is the joy (and sometimes the agony and frustration) of getting to do this work. While I love recording, rehearsing, practicing and performing, the most satisfying moments for me have always been moments alone working on my own compositions. Having people listen to, and hopefully enjoy, music I've written is a wonderful thing but I do not measure success by dollars, numbers of streams, Youtube views or how many people attend a show.
What do you find your greatest struggle to be when it comes to the music business?
Getting original music heard with so much music out there for people to choose from is challenging.
What do you think is the most realistic goal you can achieve as an artist and as a band? What do you hope to achieve?
This goes back to how I define success. I am very lucky to be making a living outside of music (as an attorney). That enables me to function as an artist without having to worry about music as a source of revenue. I have put together a world class ensemble for this new release, Interconnected, and I would love to get out on tour with this group when it is safe to do so. Working with these players to record the CD was a dream come true for me.
Outside of music, what do you like to do that you feel contributes to the creativity that you tap into for your music?
I have been an avid backpacker since 1974 when I took a National Outdoor Leadership School course in the Wind River Range in Wyoming. My family has spent a lot of time backpacking in the Sierras here in California. My first solo CD, Places, has a bunch of guitar pieces inspired by those trips.
Piece by: Jonathan Frahm