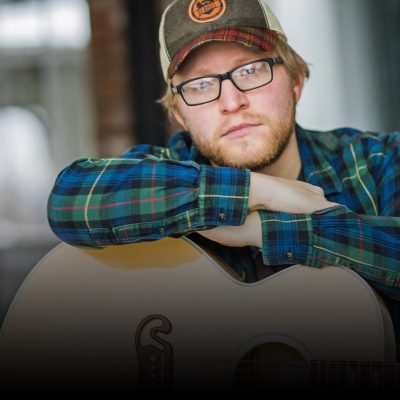 It's a bold new world, born of uncertainty in a worldwide time of crisis. How artists choose to navigate their newfound surroundings turns them into intrepid adventurers of the virtual world, as Sean Miller could attest. The Northern Michigan singer-songwriter set to Facebook for a virtual album release show on the first of April.
Everywhere I Roam is wrought from the earthen gut of bluesy, storytelling folk-rock. Perhaps it's cut from a similar rootsy tapestry to inspirations of Miller, like Donovan Woods, who is experiencing his own set of creative isolation experiences at present. Either way, Everywhere I Roam is blue-collar, naturalist Americana at its most honest, deeply redolent of the Michigan landscapes that he calls home.
Please tell us a bit about yourself. Where are you from and how did you get started in music? Any defining moments along the path to present day?
I'm from Petoskey, Michigan and started my musical journey very early on as I attended a charter school that invested a lot in the arts. So I basically started playing and learning how to play music at the age of four. From there I had piano lessons and eventually transferred into the public school system here in Petoskey where I started up band as a percussionist. Through that I did jazz band, marching band, was in a steel drum band and toured around the state performing in the ensembles.
I then attended Oakland University as a music education major and again took part in and performed in multiple ensembles and dove deep into ethnomusicology studying Ghanian music and had the opportunity to play at some international conferences and study abroad in Ghana for a month.
Fast forward a few years and I graduated from Oakland University in the winter of 2014 with my bachelors in journalism and took an art and entertainment reporter position with my hometown newspaper — The Petoskey News Review.
My long-time friend had also moved back from college and he and I started a band called The Real Ingredients together that found us playing all over our home state of Michigan every weekend going on four years now.
I've always been interested in pursuing a solo career and have always written songs for myself and decided now was the time. Making music my full-time job and performing my music is a dream I have always had. Through performing with the band and my job I had made all sorts of connections, learned how to work a crowd a little bit, set list structuring, marketing, etc… and…funny enough…overcame my fear of singing in front of people. But, the Michigan music scene is a very friendly and supportive one and I've had a lot of help to get me to where I'm at today.
Before the current state of affairs with the current world-wide health crisis I was performing at least twice a week all over the state, had a tour planned and more.
Defining moments for me though include performing at Blissfest, Folk Alliance Region Midwest, Farm Fest and so many other music festivals. I now also currently sit on the Blissfest Music Organization's board of directors.
As an artist, how do you define success?
There are many ways to think about success. How many streams does my song have? How many likes does my Facebook page have? Did I land that gig? To be honest though sometimes it's hard for me to find those successes. I'm so used to being go, go, go and working hard that I sometimes have a hard time stopping to smell the roses. However, for me that does translate and has proven to me that hard work pays off. I don't do this full-time like a lot of my friends in the Michigan music scene do but I'm playing the same gigs and festivals as they are. Everything from something as small as finally getting up to sing at an open mic from opening the Traverse City Film Fest or performing in a dozen music festivals last summer have been successes. But it's all what you make it. I'm performing my music, have recorded and produced my music, I am growing a following and have tours and more and more planned. I'm happy to be where I'm currently at and where I'm headed.
What do you find to be your greatest struggle when it comes to the music business?
Making money and music into my full-time job. Joking aside though, I think just the anxieties that naturally come with getting on a stage to perform in front of a crowd or constantly asking people to listen and care about what you are doing over everyone else that is making music. However, that has diminished over time as you learn your way and get more confident in your music. An addition to that though is wearing all the hats and being a manager, booking agent, PR person and everything that comes with being an independent musician while also finding time for creating music.
What do you think is the most realistic goal you can achieve as an artist? What do you hope to achieve?
I think it's always important to learn from and work with others in the business. I always look forward to collaborating with other musicians whether it's writing music or doing a show together.
As a solo artist though it has always been a life-long dream of mine to become a full-time gigging musician and it's getting to that point.
Of course everyone has that dream of making it big but I think a realistic goal for me, at least for now, would be getting into the venue and touring circuits. I primarily play breweries, wineries, bars and places like that. Performing and being a known artist that can capture an audience would be amazing.
Outside of music, what do you like to do that you feel contributes to the creativity that you tap into for your music?
It's not really outside music but I do really enjoy just listening to music and dissecting the arrangements and the lyrics. I'll listen to my favorites like Donovan Woods or Gregory Alan Isakov and think about why they decided to use those progressions in the verse or chorus to mimic the feeling of what is going on lyrically. Or, I'll think about and dissect the arrangement and why they had a cymbal crash here versus there. I could go on…
Completely outside of music though I do enjoy getting outside and spending time in Northern Michigan's natural beauty. It gives me some fresh air, a chance to reflect and draw inspiration from the area for some of my songs.
I do really also enjoy traveling and try to do one big trip every year as well. Two years ago I finally made it out to the West Coast and visited Oregon and last year my girlfriend and I revisited Colorado and took our time to drive instead of fly to see everything in between Michigan and our destination.
Words by: Jonathan Frahm