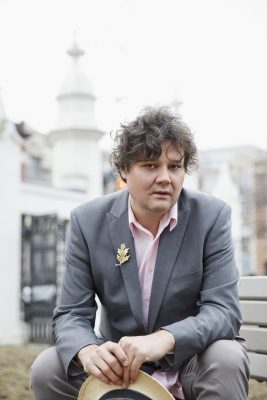 You only have to look at the sleeve of Ron Sexsmith's 13th studio album to see that something has changed. "I knew for this record the cover couldn't just be another picture of me stood up against the wall," Sexsmith told us. Remarkably for a man with so many albums in his back catalogue, The Last Rider is the first Sexsmith has recorded with his long-time backing band. Which is why, for the first time, they all appear on a front cover which looks – deliberately – like The Last Supper.
Is that meant to say that this is the end of the road?
"That's a bit dramatic," he said. "I guess every album I've done has been hard in terms of getting it off the ground, coming up with the money to get it out there. Coming into this one I thought, 'I don't want to do this again for a while.' But I think it's unrealistic to think I won't make more records. Even now I've got six new songs I'm working on."
Just don't expect to hear that new material any time soon. Sexsmith is hitting the road to tour the new record, but once that's done he'll turn his attention to his upcoming debut novel, Deer Life, due out in September. It's a needed change of direction for a man who admits he has fallen out of love with the music industry.
"This is a crazy time in the music business," he said. "Two months before this record came out you could hear five songs on the internet. I don't like that. I don't like the way they roll it out. I want to change it. I thought maybe I could spend my time performing instead, stockpile songs and then see. Ever since 1995 I've done an album every two years so it couldn't hurt to step aside for a while."
Sexsmith has plenty of things to occupy him away from music. He and his wife recently left their long-time base in Toronto to move out to Stratford, Ontario, where they've bought a house which he describes as "like Downtown Abbey or something". "I thought, 'If I have to move out of Toronto I want a house where you would think a rock star would live'," he said. "Otherwise what's the point?"
Sexsmith didn't know for sure he was about to leave his home city when he was writing The Last Rider, but it was something he was already discussing with his wife – he was the reluctant one – and the possibility of uprooting can be felt on a record he describes as "very personal". "I'm 53 now, so there's a lot of nostalgia, a lot of looking back," he said. "I've always done that a bit, but this one feels a bit more wistful. I think it's an upbeat record for the most part, but it is wistful."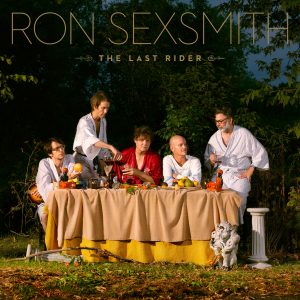 'Shoreline' deals directly with the possibility of moving, while Sexsmith says 'Man At The Gate' became his goodbye to Toronto. "I was writing about an old tourist postcard of my neighborhood, Trinity-Bellwoods," he said. "I didn't realise it at the time but it became my farewell song."
Given that it is such a personal album, it seems natural that it is the first he has produced himself. But it wasn't a deliberate decision. He had been talking to Martin Terefe, producer of four of his previous records, about working together again but the numbers didn't work out. "We couldn't come up with a dollar sign because his fee would have eaten up so much of the budget. So (drummer Don) Kerr said, 'Why don't you just do it yourself? You know how you want your songs to be.'"
In the past, Sexsmith tended to choose a producer and then work with the musicians they suggested when recording, but The Last Rider was always intended to be the first made with his touring band. "On the last tour we had such a good time I didn't really want it to end," he said. "We were playing really well together so I knew the next record needed to be a band album."
He and the band are back out on the road now, with tour dates across Canada before they head to the UK and Europe at the back end of the month. There's a trip to Japan booked in for July and an appearance at Rootstock in Ontario in August, but after that attention will turn to the release of Deer Life. Billed as a 'whimsical yet dark' tale of a boy who gets into trouble with a witch, Sexsmith's first novel is a fairy tale he had never imagined himself writing.
"It was something I stumbled into," he said. "I was lying in bed and I had this idea in my mind but I knew it wasn't a song so I was sort of at a loss. I thought perhaps it was a movie and even spoke to some movie people about it. Then it morphed into a children's book. Then I got an email from a publisher who encouraged me to write it as a novel. I've always been a fan of novels but writing one was never on my list of things to do. But I figured if it was going to be a book who better to write it than me. Nobody else will. I can't believe I did it."
Much of Deer Life was written on the bus as Sexsmith and his band toured 2015's Carousel One, and he admits he has already started work on a prequel now the band are back out on the road. "Writing a book is so unlike songwriting," he said. "You start seeing all these other things, subplots, new characters, and I've started to see a prequel taking shape in my mind. The whole process was much harder than anything I've done before in writing, but here I go again."
This has always been Sexsmith's way. He may get discouraged from time to time, but the next idea is never far away and nor is the need to act on it. As humble as he is about the accolades his music has received, he's also never hidden his frustration with the life of a musician in the industry today. When we spoke to him in 2011, he told us how close he had been to quitting then, sentiments you can hear echoes of now as he talks about stepping aside. Yet you know he won't be able to stay away for long.
"Maybe it's a compulsion," he said of his need to keep writing. "I just get these ideas, sometimes it's just a little melody that for whatever reason comes to me and I feel it's my job to make something out of them. I never really wrote songs before I was 21 and before that time I didn't know what I was going to do with myself. So when I found that I could write songs that was a big moment for me, I thought maybe I can be good at this and ever since I've been trying to get better at it. It's never been like a 9-5 thing or anything, it's just when you're walking around and even when I don't want to I'll get this idea nagging away at me and I just sort of honour it. It's not that I write one and move on, I'm usually working on 10-15 at a time and I begin to see an album take shape. I can always tell what the first song will be and then I get my hopes up again. Sometimes the music industry can be discouraging and I'm not sure if I want to do it, but then I have this new batch of songs and it gets me excited."
Ron Sexsmith and his band will tour the UK and Ireland at the end of May.
May 21 – St George's Hall – Bristol | Tickets
May 22 – The Robin 2 – Wolverhampton | Tickets
May 23 – Islington Assembly Rooms – London | Tickets
May 24 – Islington Assembly Rooms – London | Tickets
May 26 – Live Rooms – Chester | Tickets
May 28 – RNCM – Manchester | Tickets
May 29 – Palace of Arts, Wylam Brewery – Newcastle | Tickets
May 30 – Picturedrome – Holmfirth | Tickets
May 31 – Oran Mor – Glasgow | Tickets
June 2 – Academy – Dublin | Tickets