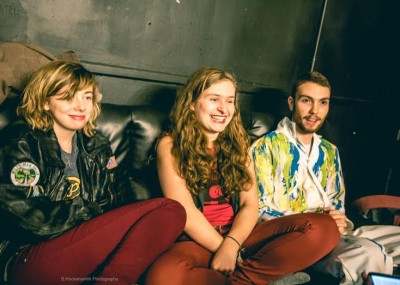 There is DIY, and then there is Traverse City, Michigan-based folk band The Accidentals. The youthful trio, founded by Katie Larson and Savannah Buist while still in high school, practically does it all when it comes to its music. Beside writing and recording, the band (with Michael Dause joining a couple years later) also handles much of the business side of things such as planning tour gigs and scheduling media events including this interview.
While being self-proclaimed socially awkward people, nothing from the friendly Michiganders gave me reason to really believe that repeated declaration. Larson, Buist and Dause are confident musicians who know what they want to accomplish, and are ready and eager to push themselves forward. Having already self-released two albums before being able to legally drink, nothing seems beyond these music workaholics.
(Note: Due to a recording malfunction, any responses attributed to Michael and the entire band are paraphrased from phone interview notes.)
Jonathan Frahm told me about your band, and I wish he told me earlier so I could have seen you live a few months ago at South by Southwest [in Austin, Texas]. How was your second SXSW, especially with all the [early] buzz by Billboard et al? And did you get to see fellow Michigander BØRNS?
Katie: We definitely learned a lot from our first experience at SXSW! As cold-weather loving Michiganders, we were completely exhausted after one day of running around the bustling streets of Austin in 100-degree heat [while] carrying seven instruments across town in our stage clothes. There's not much to do about escaping that but we did have an awesome family host us at their home outside of the downtown area (and they had two puppies), and we had another retreat to escape to at Blue Rock Studios, where we ended up [spending almost an entire day] recording our EP.
This year, we did a lot of networking. The amazing thing about SXSW is that, although it's chaotic, it's the perfect time to meet people because everyone is there. Unfortunately, we were too busy to catch BØRNS, and it's also hard to see shows being under 21.
Was it tough to see shows since some venues didn't allow anyone under 21?
Katie: Yes! Many of the events are 21+ [such as] concerts, networking parties, etc. Ironically, Michael actually turned 21 as soon as SXSW was over.
Band: We managed to see Yuck; but otherwise, we were only able to catch the bands performing ahead of us before the three to four showcases we were scheduled to play each day that we were in Austin. Last year was more successful as we saw Son Lux, Courtney Barnett, and Sarah Jarosz.
You mentioned in an earlier interview that you planned to attend some panels. Any interesting ones?
Katie: We attended a great panel called Creative Strategies in Americana. It was hosted by Ann Powers (NPR Music), and there were representatives from a few labels, management groups, and two musicians (Robert Ellis and the aforementioned Jarosz). [The panelists] described the term "Americana" as less of a genre and more of a movement incorporating many different styles and instrumentation. We've tried to bend the genre with our music, so it was awesome to hear musicians and industry folks talk about the marketing and musical implications of where the industry is heading. Plus, despite being socially awkward, we actually got to meet everyone on the panel afterward!
Katie and Savannah, you two met in high school and after hitting it off decided to start a band. With so much going on in high school, how did you find time and energy to write?
Katie: Navigating the balance between school work and the band was definitely a challenge. We basically formed the band by accident, and a few weeks before our first official gig, we realized that the bookstore we were playing at didn't have licensing permission for us to play covers so we wrote about ten originals [which later] became our very first album. After that we transferred to Interlochen Arts Academy for [its] singer-songwriter program and literally had to write songs for homework. A lot of the songs off our [second] album Bittersweet (which was funded through Kickstarter) are homework assignments or things we wrote during our junior and senior year of high school. We didn't sleep very much. :)
Are you in college? What do you do when you're not touring?
Band: Michael attended Belmont University in Nashville, Tennessee when we first met. After graduating high school, Savannah and Katie had the make the decision to either go to college (Katie received a scholarship to Berklee College of Music) or pursue offers for some production deals related to some musical scores for a documentary and commercial tunes.
How have your orchestral backgrounds contributed to the writing process?
Katie: Savannah and I met in our orchestra, and one of the first things we did together was arrange popular music (songs from MGMT and Led Zeppelin) for our violin and cello. Typically, we write songs on guitar, but sometimes if I want a different perspective, I will try writing on my cello or re-arranging something on guitar to [the] cello.
Describe how your "genre-bending" sound came about? I don't think I've heard anything remotely similar to folk on traditional radio stations in quite some time. How can people listen to you?
Katie: We were lucky to grow up surrounded by a lot of musical influences. We both come from musical families (my dad is a professional classical pianist), and we listened to a lot of classical music and jazz, and lots of different bands like Red Hot Chili Peppers and The Beatles. When we formed the band a lot of local artists invited us to play violin/cello on their albums or live sets. This gave us a lot of experience jumping in on music ranging from singer-songwriter to reggae. We've been noticing a lot of artists incorporating multiple styles into their sound. We had the opportunity to open a run of shows for Keller Williams, who does everything from bluegrass to R&B to jam-band jazz fusion. We've been lucky to have a lot of people who are supportive of us as musicians, and who continue to follow us and give us the flexibility to evolve and explore different types of music.
Michael was the last piece of the band puzzle so to speak. What was it like [having him join the] band? How has the band evolved since [he has] come aboard?
Katie: Savannah and I feel really lucky to have Michael on board as our full time drummer. He is a lot more than that to us. He plays multiple instruments, does insane voice impressions, has the best sense of direction out of any of us, and is a really close friend. He brings a ton of energy to our live shows and recordings, and [he] makes us laugh backstage before every show.
Your new EP Parking Lot drops next month. What can fans expect from it?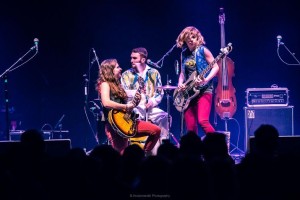 Katie: This is a really important release for us. It's been three years since we released an album, and we've evolved a lot as a band since then. Parking Lot is a transition for us. It's a thank you to all our fans who have been supporting us as we've toured non-stop for two years, and it's a representation of what we've been working on and how we are moving forward. Every song will be different, ranging from gypsy jazz, rock, pop, Americana, and folk.
What are your future plans?
Band: Mostly releasing music. We are taking off the end of this year to write and record. Having spent most of the last couple years touring around Michigan and the rest of the country, we have about 50 songs that we want to release in the near future.
Tell me more about Michael's side project.
Michael: I have an album The Sound of Self-Destruction coming out in a few months. The new single "Doors" came out Friday, May 13. Savannah's dad, who previously performed in the Grand Ole Opry, is in the band. We've booked a few dates later this summer, including Blissfest. We haven't yet played any joint events (with The Accidentals), but that's really dependent on getting everyone's schedules to align.
The Accidentals' "Parking Lot" EP is out June 1. It will be available on Bandcamp and eventually NoiseTrade, but not yet; The Accidentals are not to be confused with the other similarly sounding bands (simply coincidental) currently on NT. Michael Dause's "The Sound of Self-Destruction" is out July 8.
Words: Tan Man
Photos courtesy of The Accidentals.