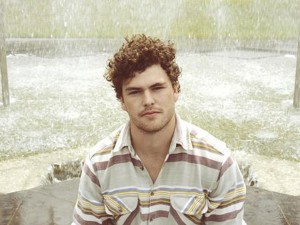 After the resounding success of one of the past year's stand out tracks 'Riptide' and a successful performance at Glastonbury, Vance Joy has returned to the UK this week, bringing debut full length album Dream Your Life Away along for the ride on an extended run of shows. The record is full of proud individual moments for the Aussie, real name James Keogh, who shows great depth and soulfulness through this delightful collection of songs.
Joy very nearly set out on a completely different road, though, with a career in Aussie rules football flourishing before he decided to make a new start in music.
"I would hear mates playing and wish that I could do what they were doing," he says, "Then when you learn to play those songs and learn to play other covers you feel yourself starting on your own journey."
"It's great to have the new album out and I'm really proud of it – it's great when you have five or six tracks and you know you've made some really good stuff. The idea of an album can be daunting…a lot of time and energy was put into it and now it's out my eyes are open and I'm having more fun on the road."
It appears that the singer was taken aback by the success of 'Riptide,' the song that thrust Joy into the public eye (and that features on Dream Your Life Away) when it reached number 10 in the UK charts in 2013.
"It's strange – you write a song in a little bubble and then it takes on its own life after – the song was planted as a little seed and grew into a tree with the branches just going wherever they want. I feel like that's what happened (with 'Riptide'). It feels like it's still growing and growing in different parts of the world and it's really cool to just watch it do what it does."
Dream Your Life Away begins with 'Winds of Change," a song that Joy calls "the first song that I wrote that I was really proud of." He says, "I thought it was worth showing people and when I was first playing it, people were saying 'It's alright, it sounds like a proper song' and I thought it was a good place to start. My producer suggested that I start and end the album with songs that are quite special and have an emotional resonance to me or some emotional meaning to me that maybe some of the other songs don't have."
Running with that suggestion, Joy wanted to end the album with 'My Kind of Man,' a melodic and emotional song that has every bit of the personal touch that he envisioned.
"I had a really good experience recording it," he says, "My producer is a real maestro at balancing two guitar tracks over the top of each other and finding the good bits of each take and accentuating them so I really like what he did with that. I felt that my vocal take was good and raw and if you especially like the song, if you feel passionately about the lyrics, you give it a bit more gusto and it's more emotional."
There was a chance for a selection of the new songs to be experimented earlier in the year when Joy played in front of family and friends on The Park Stage at Glastonbury – and experience he describes as "being transported into a completely different place and such a cool thing to do."
Now, back with a full UK tour that includes two shows at London's Shepherds Bush Empire on October 2nd and 3rd, fans here will be able to witness a singer and a group of musicians that are starting to really hone down their live act.
"I'll be playing all the songs from the album," Joy says,  "I think we're just getting better as a band because we play together so often that we're starting to mould to each other a bit and start to know how each other play and the balance we're getting is really good. That'll hopefully come through in the shows."
Vance Joy UK tour:
Sept 24th: Glasgow – Oran Mor
Sept 25th: Manchester – Academy
Sept 26th: Leeds – Stylus
Sept 28th: Birmingham – Library
Sept 29th: Bristol – Anson Rooms
Sept 30th: Brighton – Concorde 2
Oct 2nd: London – Shepherds Bush Empire
Oct 3rd: London – Shepherds Bush Empire
You can buy Dream Your Life Away right now from here.