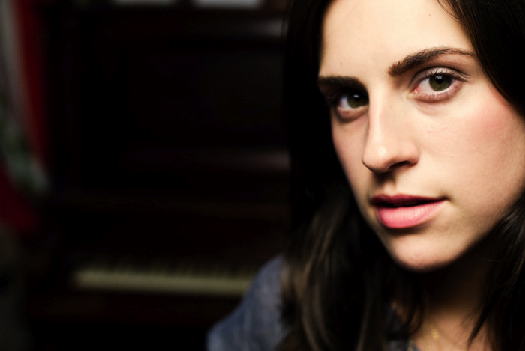 Having featured and fallen in love with Alva Leigh's gorgeous track, 'Modern Love Song' as our SOTD #382, we wanted to find out more about this bright new talent – so we did.
How would you describe your music?
Moody folk-pop. Kind of like Fiona Apple meets Rufus Wainwright. Or Regina Spektor meets Rilo Kiley. I love a big, strong vocal, a pretty melody, a pulsing rhythm and introspective lyrics.
When did you first realise this music malarkey was for you?
I have been writing songs and playing gigs since I was 15, but never fully committed my time to it until I moved here a year and a half ago. Ironically it was when I left Nashville for London that I decided to pursue music and nothing else. I had been working a string of full-time jobs and doing music as a hobby until I got a film and TV placement that allowed me to take a year to write my new album. Since I've put everything into it, I have realised there's nothing else I'd rather be doing.
What does music mean to you?
Music has taught me the freedom of feeling deeply. It's punctuated all my moments – of celebration, grief, hope, youth. It's a thread holding me to so many people. And now that I am creating it, I put my moments under a microscope, I wade into it all and try to find the thread that someone else could hold onto.
What's the worst thing about being a musician?
Carrying all of your gear on public transport! I look ridiculous on the 253 bus and strangers openly laugh at me.
What do you write about and what inspires you?
My songs are very personal – about being married, losing my father, moving across the world, but – hopefully – written in a way that they can take on a new life in the world and become something else for the listener. I am very inspired by fiction and poetry; some of favourite authors are Margaret Atwood, Marilynne Robinson, T.S. Eliot, Eudora Welty, and Flannery O'Connor. Musically, I am drawn to vocally-centric songs with a traditional folk/pop structure, strong melodic hooks and interesting, textural arrangements – like 'Jolene' by Dolly Parton, that's such a great song.
If you could invite three music artists round for dinner, alive or dead, who would they be and why?
Stuart Murdoch, Gillian Welch, Lauryn Hill- three songwriters I really admire and whose music has had a big impact on me. I'd love to know what inspires them, how they work and how they get through the dry spells.
What are you most proud of in your musical career, to date?
Having my song ('Calling Me') on Grey's Anatomy – it was truly amazing to have one of my songs heard by thousands of people!
If you could have written one song, which would it be and why?
Hard question! Maybe 'Running Up That Hill (A Deal with God)' by Kate Bush. I love an anthem in a minor key. The middle 8 is the best part of the song, which is unusual and difficult to achieve. The arrangement, especially the rolling drum beat and the vocal textures, is really effective – echoing the tension and chaos in her narrative. And it is so fun to sing.
What are your ambitions for your music?
Write quality songs that mean something to someone. Keep assuming that my next song will be better. Play in rooms big and small. Work with young songwriters on perfecting their craft. Build a sustainable career so that I don't have to do anything else with my time.
Finally, we're always looking to expand our musical horizons. Do you have any recommendations of bands or artists we should be looking out for?
I have been listening to the new Smoke Fairies single a lot, as well as Tiny Ruins. I'm pretty excited about the new Sharon van Etten album. I have recently discovered new-to-me Four Calendar Love by the Cocteau Twins. Don't know how I loved the Sundays and didn't know them! Silly!
The single 'Modern Love Song' is out now on iTunes