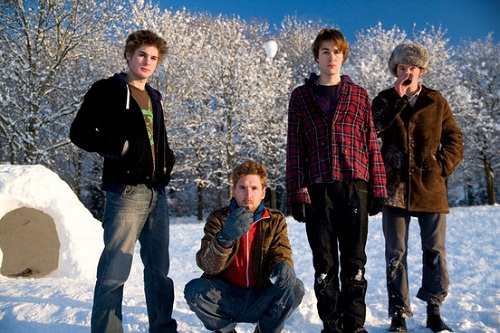 We are absolutely delighted to have a song from Oxford gents Stornoway on this year's Christmas record. Gondwanaland is a beautifully wistful track about a chance encounter on an icy day. We spoke to Stornoway's bass player Oli Steadman about the song and his idea of a good Christmas.
Can you tell us what inspired your choice/the song for the record?
Gondwanaland is a song of comfort, sounds to me like a helping hand offered in a distant land, which is what MSF are doing in Syria. It's a long time since we last performed the song, and every time I hear it these days I'm reminded of something hopeful & encouraging, completely removed from the act of performance. It's like a disembodied voice lending support, wherever you happen to be in your life at the time.
What makes good Christmas music?
Anything that helps you feel warm and close to home.
What's your favourite Christmas song?
Without a doubt: James Brown – Let's Make Christmas Mean Something This Year, Parts 1 & 2. It's on a compilation called MOJO's Blue Christmas which we play in our tour bus every festive touring season.
What's your favourite Christmas film?
The Blue Carbuncle – Jeremy Brett as Sherlock Holmes.
What are your Christmas traditions?
The last two years we've had a band member lose a telephone to melted chocolate, in a skinny jeans pocket. Long may this routine continue.
What's the best gift you've ever given?
It's going to happen this year – so I'm afraid I can't let you in on that secret, until the 25th.
What would you like for Christmas this year?
Cardinal Burns' Season 2 just a few weeks early. I can't wait.
What do you think the meaning of Christmas is?
Family.
What's your top Christmas tip?
Take a walk to a park and climb at least one tree, before the sun goes down.
---
Stornoway's song 'Gondwanaland' appears on our festive compilation album For Folk's Sake It's Christmas 2013 alongside songs from Dark Dark Dark, Alessi's Ark, Laish, Left with Pictures, Joe Innes, The Pollyanna Band, Jessie Moncrieff, Emperor Yes, Patch & the Giant, Sophie Jamieson, Worry Dolls, Inti Rowland and Howard Carter.
You can buy For Folk's Sake It's Christmas 2013 on CD & MP3 from forfolkssake.bandcamp.com. All proceeds go to Médecins Sans Frontières.